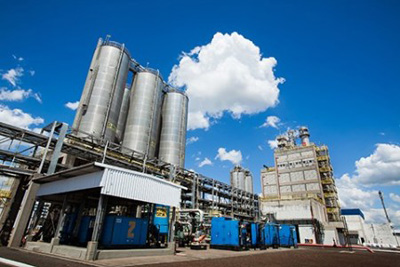 June, 15, 2018 - LyondellBasell, (NYSE: LYB), one of the largest plastics, chemicals and refining companies in the world, and Odebrecht S.A., the controlling shareholder of Braskem (NYSE: BAK, B3: BRKM5, BRKM3), a leading plastic producer in the Americas, in a joint statement today announced the companies have entered into exclusive discussions regarding a potential transaction between LyondellBasell and Braskem.
The companies jointly stated:
"Both LyondellBasell and Braskem share a strong culture of operational excellence and legacies of value-creating innovation. We believe that the potential combination of LyondellBasell's and Braskem's complementary strengths, product portfolios and operational footprints would create significant value for our shareholders, customers and employees.
"Braskem's board of directors and management have been informed of the existence of these discussions. The discussions are preliminary and no agreements have been reached. Among other things, the parties will need to complete appropriate diligence, negotiate definitive agreements and obtain corporate approvals. There can be no assurance the discussions will result in a transaction or on what terms any transaction may occur. LyondellBasell and Odebrecht S.A. do not intend to make any further comment unless and until the discussions conclude or are required by applicable law."
According to Reuters, two people familiar with the matter said the companies are planning a cash and shares deal that could top $9 billion. The same sources said that the parties expect to reach a final agreement within two months, although there is no deadline yet for LyondellBasell to present a binding offer. The sources also mentioned that Odebrecht expects a premium over Braskem's market value (33.2 billion reais ($8.93 billion) as of June, 15 market close.
Reuters also said that Odebrecht recently offered its 38 percent stake in Braskem as collateral on loans, so the company's creditors will need to agree with the transaction, as part of the deal income will be directed to paying debt.
Braskem's No. 2 shareholder, Brazilian state-controlled oil company Petrobrás, is supposed to accept and extension of the same terms for the stake it owns in Braskem. Petrobras had previously announced its intention to divest from its stakes in Braskem.
"The discussions are preliminary and no agreements have been reached," both companies said.
During the talks, LyondellBasell will address Braskem's long-term naphtha supply agreement with Petrobras, which will end in 2020.
LyondellBasell is one of the largest plastics, chemicals and refining companies in the world. It has 55 plants in the United States, Europe and Asia — complementary to the footprint of Braskem, which has 29 plants in Brazil, 5 in the United States, 4 in Mexico and 2 in Germany. LyondellBasell has 13,400 employees around the globe and sells products into approximately 100 countries, being the world's largest licensor of polyolefin technologies.
With 8,000 Team Members, Braskem has an annual production of 20 million tons, including chemical products and basic petrochemicals, and sales of R$55 billion in 2016. Braskem exports to clients in approximately 100 countries.
Sources: Braskem, LyondellBasell,Reuters
.