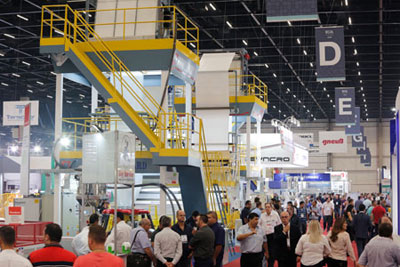 69 leading companies from 13 countries will be present at the exhibition to build relationships with Brazilian buyers and drive new revenue opportunities.This number of exhibitors represents an increase of 122% versus its 2017 edition.
Plastico Brasil – International Plastics and Rubber Exhibition has established itself, in its second edition (to be held on March 25th -29 at the Sao Paulo Expo in Sao Paulo, Brazil), as on the main plastics processing events in Latin America and has gained significant attention from the international market place. At this year's edition, 69 companies from 13 countries have chosen to be present at the exhibition to build relationships with Brazilian buyers and drive new revenue opportunities in a marketplace with high potential.
This number of international exhibitors – from Argentina, Austria, China, Germany, Hungary, India, Italy, Mexico, Portugal, Switzerland, Taiwan, Turkey and the United States – represents an increase of 122% over its 2017 edition. The total exhibition space dedicated to these international exhibitors has nearly doubled, emphasizing the exhibition's positioning as a global event.
The industry professionals that visit Plastico Brasil will gain up-close access to the latest solutions and technologies from these global manufacturers in their individual booths, as well as in the four official country pavilions: Austria (9 exhibitors), China (8 exhibitors), Germany (7 exhibitors) and Italy (15 exhibitors).
ITALY: AMAPLAST/MACPLAS/PLAST2021, BANDERA, COLINES, ELECTRONIC SYSTEMS, HELIOS QUARTZ, ICMA SAN GIORGIO, IPM, ITIB MACHINERY, MARIS, OMIPA, PLASTIBLOW, PROMIXON, TECNOVA
AUSTRIA: EREMA, NGR, AWO, HIRSCH, STARLINGER, SENOPLAST, HTW, BLUE AIR, SML
GERMANY: HANS WEBER, ASCONA, HERBOLD, LEONHARD BREITENBACH, KAUTEX MASCHINENBAU, NETZSCH, BEILOMATIK LEUZE
CHINA: CMEC, JINGYE MACHINERY, JWELL, LESUN SCREW, PLASTIC MACHINERY MANUFACTURE, QUEENSENSE MACHINE, SHANTOU DESIGNER, ZHENFEI
AMAPLAST, the Italian association of manufacturers of machinery and molds for plastic and rubber, considers Brazil to be an important and traditional market for their export activity. As a result, 20 Italian machinery manufacturers have installed production facilities in Brazil and now offer a wide array of equipment to the local market, from basic machinery to accessories. A significant portion of these companies will be present in the Italy Pavilion at Plastico Brasil.
At the official Austria Pavilion, sponsored by the Federal Economic Chamber of Austria in partnership with the Advantage Austria office of Sao Paulo, nine companies will showcase quality products and technologies.
Organizers report that the exhibition will showcase more than 800 leading Brazilian and global brands.
Plástico Brasil 2019 sees an increase of 57 % in online registrations
By the end of January, the exhibition had received an increase of 57% in the number of online registrations in comparison to the same period at the last edition of the exhibition. The fair will have 20% more exhibition space and 84 new exhibitors in 2019.
The exhibition also boasts having gained the support from over 60 trade associations and industry institutions that are active in promoting the plastics and rubber industries in Brazil and abroad.
More than 45,000 industry professionals are expected to visit the exhibition, including plastic processors and buyers from the packaging, automotive, food & beverage, construction, electronics, pharmaceutical, beauty & hygiene, among other plastics application industries that are looking for the best technologies and opportunities to increase productivity.
An initiative of ABIMAQ –Brazilian Machinery Builders' Association, ABIQUIM –Brazilian Association of the Chemical Industry, and Informa Exhibitions, Plastico Brasil will be an excellent opportunity for the industry to see first-hand the latest product launches and innovations in machinery, equipment, accessories, raw materials and resins, molds and mold-making technologies, industrial automation and robotics, peripheral equipment, and other products, services and solutions.
The other main topic of interest indicated by the industry professionals that have already completed the online registration is the comprehensive technical and educational content at the exhibition, which includes approximately 80 hours of seminars, presentations and workshops (most of them free) like the Ideas Park project, VDI Road Show, ABINFER BUSINESS CENTER, PETtalk conference and the live SMED Demonstration (Single-Minute Exchange of Die).
In addition to new business opportunities, knowledge and relationship-building, Sustainability will be one of the main themes of Plastico Brasil 2019. The exhibition will highlight a series of projects that intends not only to contribute to the preservation of the environment but also inspire suppliers, processors and other industry professionals to implement the right environmentally-friendly technologies in their businesses.
Source: Plastico Brasil - Press Office.