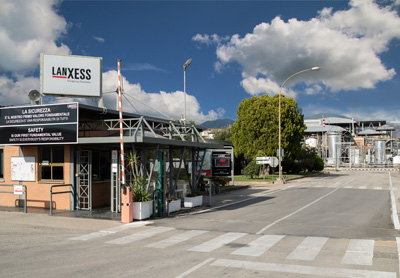 New applications development and technical service laboratory of Urethane Systems business unit will come into operation

Strategic step to support green technologies and chemistry
July 12, 2018 - Specialty chemicals company Lanxess will open a new applications development and technical services (AD & TS) laboratory for polyurethane dispersions (PUDs) in Latina, Italy. As part of the existing Urethane Systems AD & TS center, the new lab will operate as a standalone facility dedicated to PUDs. It has been built with the scope of enhancing Lanxess Urethane Systems business partnership with clients and end users, via a technology focused interaction and high scientific focus. Start of operation will be in the 3rd quarter of 2018.
The new laboratory will be capable of supporting market needs in a variety of coatings and adhesives applications in leather and textile finishing, plastic, glass and metal substrates coatings, as well as glass fiber sizing.
"There is a growing demand from customers for VOC (volatile organic compounds) free and lower carbon footprint materials," says Dr. Markus Eckert, Head of Lanxess's Urethane Systems business unit. "Moreover, the increasing regulatory pressure upon restricted chemicals, stimulates the applied research in water based technologies. Hence, the foundation of a focused technical center is consistent with Lanxess's strategy towards green technologies and chemistry."
Urethane coatings demand wear, abrasion, chemical and UV resistance, for which Lanxess can offer a range of solutions. "The laboratory in Latina will be capable of doing analytical work, formulation development and synthesis of novel products to satisfy market needs with a high degree of technical differentiation," Eckert continues.
Lanxess Urethane Systems is one of the leading manufacturers in hot-cast prepolymers as well as of specialty aqueous polyurethane dispersions, coating systems and polyester polyols. The specialized polyurethane systems know-how for various applications, global production capabilities and deep application expertise all come together to enable Urethane Systems to provide solutions tailored to meet the customers' needs.
Lanxess is a leading specialty chemicals company with sales of EUR 9.7 billion in 2017 and about 19,200 employees in 25 countries. The company is currently represented at 74 production sites worldwide. The core business of Lanxess is the development, manufacturing and marketing of chemical intermediates, additives, specialty chemicals and plastics. Through ARLANXEO, the joint venture with Saudi Aramco, Lanxess is also a leading supplier of synthetic rubber.
Source: Lanxess