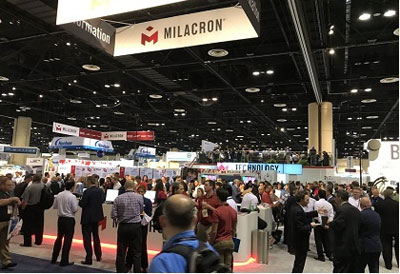 May, 07, 2018 - Milacron had a large booth packed with technology at NPE, totaling 1,700 square meters. The Milacron booth was filled with industry-leading technologies, including Milacron injection and extrusion machines, Mold-Masters hot runners and control systems, DME mold components and solutions, Uniloy blow molding machines, Kortec co-injection technologies, Milacron 4.0 IIoT solutions and a strong focus on Milacron's service and support offerings.
Milacron CEO Tom Goeke stated, "Milacron always enjoys reconnecting with existing and prospective customers at trade shows but there's something special about the NPE show: we're in our North America customers backyards and we're the largest North American plastics industry manufacturer. Milacron is a proud global company with locations all over the world but we're uniquely equipped to serve our North American customers with on time parts availability, local field service technicians, and IIOT technologies to the degree our competitors simply cannot with their satellite North American locations". Goeke added, "At NPE 2018, we were proud to focus on our industry-leading service and support. It goes without saying our customers are our most important asset at Milacron and all of our product brands are ensuring that we provide world-class, second to none support across all of our technologies."
Below you'll find a sampling of the products and technologies that were on display from Milacron at NPE 2018 in Orlando, FL, May 7th to May 11th.
Milacron Injection Molding Machine Work Cells
The Milacron-Fanuc Roboshot 500 – The Largest Tonnage Roboshot ever! – Packaging Application
For over 30 years Milacron has sold and serviced its all-electric Roboshot machine across the Americas and has sold over 5,600 FANUC machines over that time. At NPE, Milacron announced the availability of the largest tonnage Roboshot machine ever offered in the Americas – The Milacron-Fanuc Roboshot 500. The new Roboshot 500 has an increased tonnage option up to 550 US tons (558 metric tonnes) and is great for larger molds with tie bar spacing of 36.2 inches (91.94 cm). According to Milacron, the new larger machine doesn't sacrifice any of the Roboshot standard strengths such as reliability, precise process control, high-speed injection and repeatability.
Molding Cell Details: The new Roboshot 500 was molding a detergent cap with 24-cavity mold at 6 second cycle times. The cell featured a Mold-Masters Master-Series valve gated hot runner and TempMaster M2 hot runner temperature control system and DME mold components.
The Milacron Maxima Performance (MPs) 600wp – Performance Exemplified – Automotive Application
The Maxima Performance Series builds upon the Maxima two-platen platform. Milacron says that the Maxima Series meets market demands for higher performance, lower energy, precision, and flexibility. This platform is available from 500-1100 US tons (450 to 1000 metric tonnes) and delivers 33% faster dry cycle times and 35% lower energy consumption, Milacron claims. The company also says that The Maxima Performance offers the widest platens in each tonnage; a precision grease-less clamp guided on linear bearings, and integrated auxiliary control, combining the advantage of a precise and accurate two-platen mechanism with the advanced, user-friendly Mosaic+ controls. The Maxima Performance 600wp is outfitted with Milacron's "Core Back/Reverse Coining" technology package where the part is filled then the clamp is opened to a predefined position. Milacron says it has developed a process that precisely controls the open position and maintains squareness which is critical to maintaining part tolerances and allows gas (Mucell) through to the center of the part without breaching the surface. The process of injecting a gas expansion (Mucell) allows for reduced part weight without sacrificing the structural strength and dimensional accuracy of the part. This process was developed with automotive lightweighting applications in mind.
Molding Cell Details: The Maxima Performance 600 was molding an 825 gram, 1-cavity automotive door panel map pocket with Trexel's MuCell technology highlighting automotive lightweighting along with ROC Tool technology providing induction heating directly to the surface of the part for that class A finish that is critical in interior automotive applications. The cell featured a Mold-Masters Fusion G2 hot runner and iM2 TempMaster hot runner temperature control system, and a Sepro 5 axis robot with trimmer integrated into the machine controls and DME mold components.
Uniloy Blow Molding Machine Work Cell
The Uniloy IBS 85 with Kortec Connect Co-injection – Injection Blow Molding Machine with Kortec Barrier Technology – Medical Application
The Uniloy Injection Blow Molding Series (IBS) includes a line of 3-station injection blow systems with clamp forces from 70 to 200 US tons (64-181 metric tonnes) available in hydraulic, hybrid or all-electric configuration. The standard features built into Milacron injection blow molding systems, along with a variety of available options, give customers the capabilities to mold complex shapes and meet high production requirements. Milacron says that Uniloy technology also provides the high tolerance injection molded neck finish required for many of the child-resistant and tamper-evident bottle closure designs. To add co-injection technology to this cell, Milacron used the newly launched Kortec Connect product offering. The Uniloy IBS system was fitted with a Kortec hot runner system and Mold-Masters E-Multi secondary injection unit that delivered the barrier layer. Kortec co-injection hot runners allow two different resins to be combined in a single 3-layer melt stream, Milacron claims. Two flow streams are joined at each co-injection nozzle resulting in a single, combined 3-layer flow stream through each gate, into the mold cavities. The result is a tight control and the ability for customization of the barrier layer placement and thickness. Milacron has been manufacturing co-injection systems for the plastics and packaging industries for 30 years.
Molding Cell Details: The Uniloy IBS 85 was molding a 7.5 gram, 4-cavity medical tablet bottle with Kortec Co-injection barrier technology in 12 second cycle times. The Kortec barrier was delivered via a Kortec hot runner and Mold-Masters EM3 E-Multi secondary injection unit.
Mold-Masters Hot Runner Technologies
Mold-Masters Master-Series Hot Runners - Bio Resin Processing
With over 1,500,000 nozzles in the field, says Milacron, the Master-Series hot runners represents the culmination of over 50 years of hot runner system knowledge and experience.
Milacron claims that the Master Series feature thermal balance, precision and open flow runner channels in the nozzle/gate seal, thus allowing for accelerated melt flow and dispersion with virtually no dead or blind spots which is critical to eliminating degradation, a common challenge while processing bio resins.
Bio Resins are gaining in popularity. As more regions and markets - such as packaging - encourage, and in some circumstances, demand the use of these Bio resins, the ability for hot runners to process them will be paramount. Masters-Series has been tested using a variety of bio resins. Milacron says that hundreds of Mold-Masters Master-Series systems are already in the field processing bio resins, producing small to medium size parts in single nozzle to high cavity systems. Many related cases were displayed in the booth at NPE.
Mold-Masters E-Multi Secondary Injection Unit – Thermoplastic Multi-Shot Molding Solution with LSR Capabilities
Mold-Masters all-electric E-Multi converts existing injection molding machine equipment to enable multi-shot and multi-material molding, expanding operations potential. The E-Multi platform is compatible with any injection molding machine and a solution for precision molding applications. Milacron says that the E-Multi has over 2,000 standard possible configurations and is now available with LSR capabilities. The E-Multi LSR utilizes the E-Multi platform for precision LSR molding applications. The E-Multi was featured on 2 work cells in the Milacron booth.
DME Mold Components, Technologies and Industrial Supplies
DME TruCoolTM – Conformal Cooling Solution
According to Milacron, TruCoolTM Conformal Cooling is designed to maximize cooling efficiency through 3D additive metal manufacturing. This line of conformal cooling products, with complex cooling channels conforming to the part surface geometry, provides greater overall cooling coverage with even distribution, while maintaining a targeted consistent temperature and reducing cycle times by as much as 60%, Milacron claims. DME announced three new products and services to the TruCool product and services line. First, DME Design Services, which builds on decades of mold making, mold design, thermal analysis, and conformal channel design to provide customers with mold design. Second, DME's new cooling Aftermarket Services and Equipment which provides cooling channel cleaning, diagnostics and maintenance, with the ability to troubleshoot, clean and descale both conventional and conformal cooling water channels. Milacron says services will maximize the lifespan and efficiency of intricate conformal and conventional cooling through a closed loop, computer controlled, automated process. Third, DME announce its new line of TruCool "Standard" conformal cooled components including core pins, gates, and sprue bushings.
DME Industrial Supplies
Milacron-DME Industrial Supplies provides a portfolio of products to help improve operational performance and keep customers plants running smooth and safe. Supplies include auxiliary equipment, machine parts, shop equipment, mold sprays, cooling and heat supplies, or safety products from brands like Dri-Air, Mokon, Parker, Slide, 3M, Bunting and others. Products are available 24/7 via the Milacron eSTORE globally. DME highlighted several new products at NPE including; MoldVac Controller, SMARTFLOW TRACERvm, CodiPro GradUps certified hoist rings and swivel eyebolts, ultrasonic and pneumatic mold polishing equipment, Fresh StartTM purging compound, premium gate cutters and new DME Mold Service tables. During NPE, Milacron-DME Industrial Supplies had a demo area that which included live demonstrations and hands-on access for companies to learn and benefit.
Milacron Extrusion Technologies
New Milacron SV350 Single Screw Extrusion Machine
The SV350 extrusion machine addresses the needs of tube and profile processors as well as sheet, fiber, wire and cable manufacturers. The SV350 is a stock machine and therefore available for quick delivery. It is available in sizes ranging from 2.0 – 4.5 inches in 24:1 L/D ratio. Milacron both designs and builds full extrusion systems in-house. Its range of supplies include new and rebuilt extruders, barrels and screws, pipe heads, dies and downstream equipment
Milacron is a global leader in the manufacture, distribution, and service of engineered and customized systems within the plastic technology and processing industry. Milacron has a full-line product portfolio that includes hot runner systems, injection molding, blow molding and extrusion equipment, mold components, industrial supplies plus a range of advanced fluid technologies.
Source: Milacron