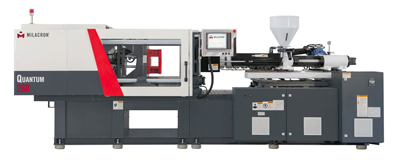 September 10, 2018 - Milacron Holdings Corp. (NYSE: MCRN), a leading industrial technology company serving the plastics processing industry, has announced its upcoming participation at Fakuma 2018. This year's Fakuma will take place October 16-20th in Friedrichshafen, Germany. Milacron will be in hall B3 – Booth 3203, displaying its technologies including Milacron injection molding machines, Mold-Masters hot runners and control systems, DME mold technology solutions and industrial supplies as well as TIRAD high precision mold bases. This year's Fakuma will feature a number of firsts for Milacron's injection portfolio in Europe.
Milacron CEO Tom Goeke was quoted "As always Milacron is pleased to attend the Fakuma trade fair. Fakuma is known as a leading technical event for the plastic injection molding industry. Milacron Europe has some expanded offerings we're excited about including our newest toggle machine the Quantum T and the European debut of Milacron M-Powered. I'm certain that all of our current and prospective customers will be impressed by the M-Powered IoT suite of products, our revamped injection portfolio and our unmatched Aftermarket service and support offerings." Goeke added, "All of Milacron's product brands place great value on our European customers, and we continue to invest and plan for the future. We have a technical team of experts to support a robust service and technology organization in Europe. I invite all customers new and old to stop by the Milacron booth to connect with our team."
NEW Milacron M-Powered Suite of Connected Services – European Debut
Milacron's M-Powered suite of connected IoT solutions makes its European debut at Fakuma 2018. Milacron says that M-Powered is a portfolio of observational, analytical and support services that allow molders a competitive advantage through insight. According to the company, M-Powered provides intelligence on a molders current operations and future needs, sharpens manufacturing quality and productivity, and optimizes uptime.
Milacron Chief Marketing Officer Giovanni Spitale stated: " IoT optimizes our service availability by creating a technical link between our customers and Milacron technical experts. We use technology to be faster, more efficient and always available for our customers. We call it M-Powered."
Milacron says that M-Powered enabled machines currently include remote service capability with OEE and downtime analytics, and data collection with maintenance and parts recommendation intelligence. M-Powered also includes full API integration as a standard setup in addition to applicable hardware such as Milacron´s Red/Green Boxes and dedicated network security.
The Milacron M-Powered product offering will continue to advance and evolve, and Milacron is currently scheduling releases later this year to include services such as the M-Powered Fingerprint.
All-Electric Elektron EVO 155 with iMFLUX Technology – The Debut of iMFLUX Molding Technology on a Milacron Injection Molding Machine
The Elektron EVO was designed for a full range of applications, in a variety of sizes. Milacron claims that the Elektron EVO uses 60% less energy and 90% less water than hydraulic injection molding machines, reducing operating costs. The company also says that Elektron's stroke precision of servo-driven axes is greater than top hydraulic systems, making it suitable for the production of high-precision parts. With no oil disposal, leaks or slipping hazards, Elektron EVO is also good for clean room environments.
iMFLUX Technology
Fakuma 2018 will mark the introduction of an adaptive process control module to the M-Powered suite of products. Milacron announced that it is extending the portfolio to include real-time adaptive process controls and Fakuma 2018 will mark the debut of iMFLUX technology on a Milacron injection molding machine. According to Milacron, the iMFLUX molding technology provides real-time adjustment for mold and material changes. Consumer packaged goods giant Procter & Gamble developed iMFLUX in 2013, and now operates as a wholly owned P&G subsidiary. The technology enables filing a mold at a lower, defined melt-pressure profile, allowing a variable filling rate that adapts automatically to the part geometry. Milacron says that, by using iMFLUX, molders can increase productivity by up to 50% on existing injection molding machines. The process is suitedl for most molding applications, but is especially advantageous for wide specification materials, recycled materials, and can help a biomaterial work for many more applications. The patent protected injection molding process will be on full display in Milacron's booth.
Molding Cell Details: Milacron's all-electric Elektron EVO 155 will have a 4 cavity iMFLUX mold producing a technical part at an estimated 15 second cycle time. The work cell has Mold-Masters hot-runner system with servo-electric valve actuators and a TempMaster SeVG + controller with integrated temperature and valve actuator controls.
NEW Quantum 180 Toggle Injection Molding Machine from Milacron – European Debut at Fakuma
Milacron's newest and most advanced Toggle machine ever will make its European debut at Fakuma 2018. Quantum comes equipped with Milacron's Endura Touch control interface and is available from 125 to 610 tons. The Quantum features Milacron's new generation toggle machine technology that will provide added benefits of reduced energy consumption, lower cycle time coupled with precision and reliability, the company claims.
Molding Cell Details: Milacron's Quantum 180 will be outfitted with a Mold-Masters E-Multi secondary injection unit, TempMaster M1 controller and an indexing rotary unit in combination with a 2K mold from Wilhelm Weber GmbH & Co. KG (hall A3, booth 3302) molding a 2-component squeegee commonly used in showers and home window cleaning. The primary injection of a PC/ABS blend is processed via the Quantum machine followed by the Mold-Masters E-Multi injecting the TPE. The Wilhelm Weber tool with an index plate system has a hydraulically operated wiper that wipes the squeegee from the over-molded core. Total part weight of 72 grams running a 50 second cycle time.
Milacron is a global leader in the manufacture, distribution, and service of highly engineered and customized systems within the plastic technology and processing industry. Milacron has a full-line product portfolio that includes hot runner systems, injection molding, blow molding and extrusion equipment, mold components, industrial supplies plus a wide market range of advanced fluid technologies.
iMFLUX is a software and engineering innovation company. Its core technical competencies include polymer processing, machine control software and hardware, mold design and fabrication, materials expertise, metrology & analytics, and industrial design.
Source: Milacron