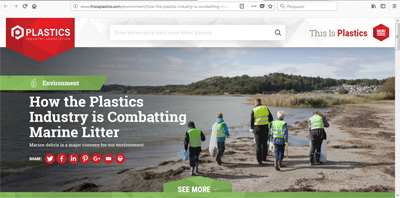 May 7, 2018, ORLANDO, Fla. — During NPE2018, The Plastics Industry Association (PLASTICS) launched This Is Plastics, a resource created to turn plastic industry employees into ambassadors. It aims to educate and empower the U.S. plastics industry's nearly one million employees to communicate about plastics and some of the most-discussed topics, including safety, sustainability and the environment.
"We want people who work in plastics to become ambassadors for plastics," said PLASTICS President & CEO William Carteaux. "and This Is Plastics gives the nearly one million men and women in the U.S. plastics industry the tools they need to share our story."
This Is Plastics offers a mix of articles, shareable images, videos and interactive quizzes, geared toward addressing issues facing the plastics industry, such as marine litter, plastic bag bans and taxes on plastic products. The resource is designed to help people who work in plastics dispel myths and share successes in an easily digestible way that inspires meaningful conversations about the power of plastics.
The resource features five topic areas: Plastics 101, Safety, Economic Impact, Environment and Innovation. Each topic area contains several relevant articles. Highlights include:
Each page, and the graphics included in it, can be printed or shared through email and across social media platforms.
"Plastics industry employees can use information they glean from This Is Plastics to inform conversations they have in their daily lives," said Wylie Royce, PLASTICS Chairman and President of Royce Associates. "If we're able to articulate what we all know and believe, we can show people how plastics make a positive impact."
The resource was introduced today at the Opening Ceremony of NPE2018: The Plastics Show and will have a strong presence across the show floor with an interactive exhibit in the South Hall concourse.
Explore the new resource at ThisIsPlastics.com and share interesting content from the site across social media platforms with #ThisIsPlastics.
The Plastics Industry Association (PLASTICS), formerly SPI, is the only organization that supports the entire plastics supply chain, representing nearly one million workers in the $404 billion U.S. industry. Since 1937, PLASTICS has been working to make its members and the industry more globally competitive while advancing recycling and sustainability. To learn more about PLASTICS' education initiatives, industry-leading insights and events, networking opportunities and policy advocacy, and North America's largest plastics trade show, NPE: The Plastics Show, visit plasticsindustry.org.
Source: PLASTICS Press Office