First all-plastic wheel rim suitable for high-volume production
Engineering plastics: specialties for various sectors
Special show: High-performance materials for medical applications
Cooperation with machine manufacturer Arburg to improve flow and energy efficiency
Styrolution with wind-powered turbine made from Luran S
Polyurethanes and masterbatch preparations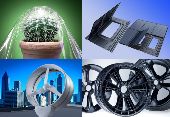 October, 2011 – This year again, BASF presented its engineering plastics, polyurethanes and masterbatch preparations at the Fakuma, the international trade fair for plastics processing in Friedrichshafen, Germany. Styrolution and its styrenics were also there.
Specialty engineering plastics for automotive, E&E, construction industry and medical devices
Automotive: World's first all-plastic wheel rim suitable for high-volume production. A special highlight will be the world's first all-plastic wheel rim that is suitable for high-volume production. It will be shown on the new smart concept car "smart forvision" which includes many more BASF innovations. The wheel rim is made from Ultramid® Structure, the long fiber reinforced polyamide that BASF presented at K 2010 for the first time. The material can be used not only in the automotive sector, but also for façade curtain walls and special wall plugs.
Particularly interesting for the automotive sector are also the highly heat-stabilized Ultramid® Endure, which is especially well-suited for use on turbocharged engines, and Ultrason® E Dimension, the polyether sulfone that combines dimensional stability, stiffness and good processability thanks to a new formulation. Other new products appearing at the Fakuma include improved crash-optimized (CR) Ultramid grades (PA 6) the predecessors of which have been used successfully for pedestrian protection for years. These new grades offer even better impact strength and a wide range of stiffness and toughness. To illustrate the benefits of improved-flow Ultramid High Speed, BASF demonstrated the material on an Arburg injection molding machine at a special show on energy efficiency in the East Foyer.
Electronic and electrical engineering. From its PBT line, BASF discussed the new Ultradur ® LUX. Compared to PBT grades currently on the market, this material exhibits twice the laser transparency, creating previously unknown opportunities for reliable laser welding of PBT parts. The especially hydrolysis-resistant Ultradur B4330G6 HR (PBT), which is already in use at Bosch, will also be present. It is very resistant even in hot-humid surroundings. Components made from this material can pass the particularly stringent USCAR tests. There were also new items in the field of halogen-free flame-retardant materials. For instance, Ultradur B4450G5 LS, a PBT with enormously high tracking resistance and V0 certification to UL 94 starting at a wall thickness of 1.5 mm and Ultramid® B3U30G6, a polyamide for circuit breakers with increased stiffness requirements.
Photovoltaic/construction applications. In the field of photovoltaics BASF has, in the meantime, become very active with its polyamides Ultramid ® A3X2G7 and Ultramid A3XZG5 for connectors and junction boxes. Both materials are certified on the basis of the f1 weathering test (UL). An especially interesting new product is the novel plastic pan for photovoltaic modules developed together with SCHOTT Solar that will be on display at the Fakuma. It benefits from all the properties of the material – an Ultramid ® High Speed – that sets a plastic apart from metal.
Medical technology. At the medical technology show in the West Foyer, the company be presented several of its plastic specialties that are used in medical devices. These include Ultraform® PRO (POM) and Ultradur® PRO (PBT) as well as the high-performance specialties from the polyarylether sulfone line Ultrason® E (PESU) for flat membrane filters, Ultrason® S (PSU) for respiratory masks and semi-finished goods made from Ultrason® P (PPSU) for sterilization boxes.
Styrolution: Styrenic specialties: Greater aesthetics and ruggedness
Wind-powered turbine made from Luran S. At the BASF booth, Styrolution GmbH exhibited the first generation of miniature wind-powered turbines from its Dutch customer EverkinetIQ. The new product is intended for industrial facilities as well as high-rises, hospitals and private use to generate electricity locally. EverkinetiQ uses Luran® S KR 2858 G3, an ASA reinforced with 15% glass fibers, for the rotor. The round frame with a diameter of about 1.5 m is made from Luran S 797 S.
Not only for automotive: ASA, AMSAN and the new ASA/PA: UV-stable, scratch-resistant, high gloss, impact-resistant. Styrolution discussed with the customers the new product Luran S SPF30, an ASA that offers a major improvement in colorfastness and surface quality thanks to new UV stabilization technology. Gloss and color are retained considerably longer than in previous grades, which is especially beneficial in automotive applications such as front grilles, mirror housings and spoilers. The great color depth of Luran® HH 120 piano black will also be welcome in the automotive sector. The especially heat-resistant (HH: high heat) AMSAN combines exceptional surface gloss, color depth, scratch resistance and high stiffness with heat resistance, making it ideal for interior and exterior decorative covers, above all in the high-gloss black version.
The first ASA/PA blend from Styrolution is a development that surpasses the well-known Terblend® N ABS/PA blends. The material family has been given the name Terblend S. Its first representative is Terblend S NM-31. This material combines toughness, good flow characteristics and UV stability, making it able to withstand kicks and strong sunlight. It is well-suited for applications such as lawn chairs and the rear shelf in automobiles, both of which are subjected to intense sunlight.
Packaging and compounding with SB polymer: From stretch film to polymer modification. In an experimental setup using the highly elastic styrene-butadiene (SB) copolymer Styroflex ® , Styrolution demonstrated the extreme stretchability of packaging film made from this plastic at the Fakuma. Thanks to its good resilience, stretch hood film conforms to the item being packaged even after being stretched 220 percent.
Styroflex as performance additive. At the same time, Styroflex can also be used as an impact modifier: for high-impact or highly filled polystyrene (PS). In addition, Styroflex functions as a compatibilizer between different polymer groups, e.g. ABS or PS with polyolefins. On the one hand, this makes it possible to reduce the susceptibility to cracking while increasing the puncture resistance of film. On the other hand, Styroflex permits combination of different polymer and filler classes on a modular principle.
Polyurethane (PU). At the PU display, trade visitors found custom-formulated solutions based on the thermoplastic polyurethane elastomer Elastollan ® (TPU) as well as selected automotive applications for polyurethane systems. Innovative applications from many segments of industry will be displayed to demonstrate the capabilities of both product lines.
Masterbatch preparations. BASF Color Solutions presented its range of products and services at this year's Fakuma trade fair, focusing on artificial turf, wood and plastic composites and special effects for the packaging industry. The company has many years of experience and wide-ranging technical expertise in these sectors, and it supplies an established, extensive range of masterbatches for coloring and stabilizing plastics. In the packaging sector, BASF Color Solutions sets the trend with efficient, environmentally friendly solutions. Magnetizable and detectable compounds provide enhanced safety in the production of foodstuffs and open up new possibilities for innovative design. The same also applies to the Liqui-Kolor® range of pigment preparations that make it possible for quick color changes to be made and allow transparent objects to be colored more efficiently. Biodegradable masterbatches complement the range of environmentally friendly products, especially masterbatches for packaging film.
Source: BASF