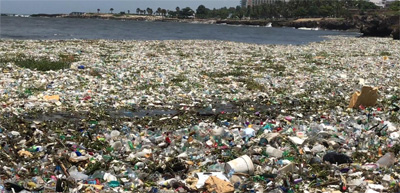 Initiative to collaborate with government and business stakeholders in coastal economies battling waste
October 01, 2018 - The Dow Chemical Company (Dow) is investing in a new partnership mobilized by the World Economic Forum to bring businesses, civil society, national and local governments, community groups and world-class experts together to collaborate on solving plastic pollution. The Global Plastic Action Partnership (GPAP) is funded and supported by the governments of Canada and the United Kingdom, as well as several companies, namely The Coca-Cola Company and PepsiCo Foundation.
"Dow, across the whole manufacturing value chain, understands the important role materials innovation will play in solving this critical global challenge," said Jim Fitterling, CEO of Dow. "Through innovation and collaboration, Dow is committed to improving the recyclability of plastics and will help facilitate the world's transition to a circular economy, where waste is captured, valued and designed into new products and services."
The GPAP will translate ambitious commitments into local action and show how business, communities and government can redesign the global "take-make-dispose" economy as a circular one.
"This is one of several collaborations Dow is leading alongside diverse stakeholders, all with the objective of eliminating plastics waste in our oceans," said Mike Witt, Dow's corporate director of plastics circular economy. "We can and must solve this problem, and Dow is using its materials innovation expertise as well as our passion for a clean environment to ensure that future generations will benefit from clean oceans and a circular approach to critical materials, including plastics."
GPAP's first collaboration will be with the Government of Indonesia. The world's largest archipelago is suffering a crisis of plastic waste and the government has a national plan to reduce it by 70 percent over the next seven years.
The GPAP aims to have investable localized solutions in place by 2020, which can then be adapted and implemented in other countries. The partnership will announce collaborations in two other coastal nations (one in West Africa and a small island developing state) in the coming months. These three proof-of-concept projects will coincide with the UN's next landmark ocean conference.
GPAP aims to complement and build on the momentum of other partnerships, collaborations and efforts of businesses, entrepreneurs, governments, non-profit organizations and scientists who are doing critical – and often unheralded – work to eliminate plastic pollution in our land, rivers and seas. It also follows major commitments by world leaders.
Source: Dow