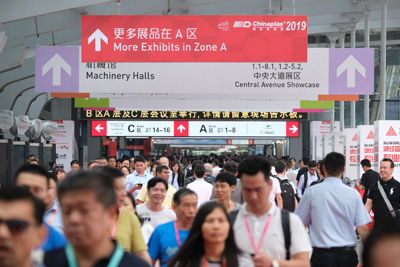 The manufacturing industry worldwide has hit a bottleneck in its growth and recovery.With simmering trade tensions, the global economy is undergoing complex and profound changes. In a critical phase of adopting new development strategies, improving its economic structure and shifting the growth momentum, China has been cutting taxes and related costs to ease the burden of manufacturers with the aim of encouraging technological innovation and stimulating domestic demand. At the same time, the country continues to open up to encourage foreign investment. Embracing a new era for the plastics and rubber industries that is full of challenges and opportunities, Chinaplas 2019 – which runs from 21 May to 24 May – kicked off today in Guangzhou, the technological innovation hub and core city of the Guangdong-Hong Kong-Macau Greater Bay Area. The show has attracted over 3,600 leading exhibitors from all over the world. With an exhibition space occupying more than 250,000 square meters at the China Import and Export Fair Complex, Pazhou, Guangzhou, the show will present to the world numerous pioneering technologies that are helping plastics and rubber companies to stand out and grow.
Technological Innovation with Plastics to Foster High-Quality Development
Artificial intelligence, 5G wireless networks, big data, the Internet of Things (IoT), facial recognition technology, curved monitors, foldable screens – these terms have been catching our eye over the past year while giving rise to new materials, new equipment,and new opportunities. The key to high-quality development is technological innovation. The plastics and rubber industries – which together comprise a vital backbone of the overall manufacturing sector – are aggressively upgrading their production capabilities and their overall value chains.
Plastics is an indispensable part of human life and technological development. However, the potential of plastic materials has long been misunderstood and underestimated. Plastic materials now find use in a mind-boggling array of high-end applications, enabling creative and imaginative product design. Chinaplas, as a high-quality showcase for such technologies and as a vital business exchange platform, this year alone will introduce more than 180 cutting-edge, hot technologies that are being revealed for the first time in the world or Asia. A vast number of both Chinese and multinational exhibitors will use the occasion to display high-performance plastic materials and intelligent manufacturing solutions, to help propel these industries forward.
For the plastics industry and for other key end-use sectors, the annual Chinaplas show is like a top performance stage, which focuses on exhibiting emerging technologies and innovation. 5G, the next generation of wireless networking, will revolutionize countless aspects of our lives, and accelerate our adoptionof a high-tech smart life. Many innovative technologies can be incorporated into 5G base stations and other applications. Low-dielectric constantmodified plastics, antenna materials, heat-sink conductive materials, shielding materials and more also can be found in the show. Vehicles also are becoming "smarter" and more autonomous. With the implementation of intelligent networks, high-performance materials with good organoleptic properties, electrical conductivity,and color-changing ability are becoming more popular. Aesthetically pleasing, eye-catching, customized packaging is becoming an "accelerator" for boosting brand values. Many also are seeking quick and changeable technologies for 3D printing, as well as new, environmentally friendly and specialty plastic materials. In the medical field, high-purity, highly-transparent,and chemical-resistant medical-grade plastics and medical-grade silicone are gaining popularity. At the show, visitors also will find high-quality building materials solutions, offering high durability, strength,and toughness. Additionally, the show will actively promote new applications in other sectors, such as sports and leisure, and introduce various other innovative technologies that can be applied in several industries.
To assist industry players in identifying cutting-edge and popular "hardcore" technologies, the organizer will hold concurrent event "Tech Talk", which are open-forum discussions on the show floor that will showcase more than 40 innovative technologies, covering 11 major themes, such as long-fiber injection molding, 3D printing, Bioplastics,and new energy vehicles.
In response to the increasing demand and great potential in the medical market, "Medical Plastics Connect" will be held in the form of "Forum + Pop-up Kiosk + Guidebook + Guided Tour" to provide medical device, disposables and pharmaceutical packaging manufacturers with the latest medical plastics technologies around the world.
Towards a New Paradigm of Circular Economy
Following the import ban on domestic waste in late 2017, China's "Ban on Plastics Scrap" goes further. The import of industrial plastic waste was banned entirely in late 2018. The problem of plastics pollution is serious and urgent. The traditional pattern of "raw material – production – consumption and use – disposal" is being gradually abandoned and added with the crucial step of recycling. Reshaping the industry paradigm with innovative technologies will not only eliminate the "troubles" caused by plastics pollution, but also discover the underlying development opportunities and potential. "Chinaplas 2019 focuses on 'Smart Manufacturing', 'Innovative Materials' and 'Green & Circular Solutions'. With the arrival of the prevailing global trend of circular economy, it is an exhibition definitely not to be missed," mentioned Ada Leung, General Manager of Adsale Exhibition Services Ltd., the organizer of the show.
The circular economy and plastics recycling are hot topics again. Giving used plastics a new life is an important mission; it not only stimulates economic growth and creates new value, but also helps to protect our beautiful planet. Technological upgrades to plastics are helping to give us many more environmentally friendly solutions. The global manufacturing and supply chainsare taking pro-active steps aimed at promoting a circular economy. From the United Nations to the European Union, China and the U.S., from chemical raw materials suppliers to leading brands like Nestlé, Procter & Gamble, Unilever,and L'Oréal, all stakeholders are taking action to promote reasonable utilization and recycling of plastics, with the goal of minimizing plastic waste.
Adsale Exhibition Services Ltd., the organizer of Chinaplas, jointly held the "Plastics Recycling & Circular Economy Conference and Showcase" on 20 May (a day before the opening of trade fair) with CPRJ - China Plastics and Rubber Journal, and received an overwhelming response from the industry. The event gathers from all around the world the latest innovations, improvements in processes, application examples, unique perspectives and insightful viewpoints regarding the circular economy and recycled plastic materials. At the conference, industry experts explored the theories behind and implementation of the circular economy and had face-to-face discussions on how to grow business while also focusing on reducing waste and saving resources. Recyclers and users of recycled materials (including retailers and brands such as Adidas, Johnson & Johnson, Nestlé, Procter & Gamble,and Tupperware) shared case studies on how to establish a circular recycling ecosystem and discussed the entire life cycle of plastic materials.
In the world of recycled plastics, the possibilities are endless. Chinaplas will set up for the first time a "Recycled Plastics Zone", exhibiting several 100% recyclable, non-toxic and safe materials, such as rPET, LDPE recycled resin, PP recycled resin, high-performance recycled plastics,and recycled modified plastics. Visitors can get some tips for turning "waste" into useful materials in the "Recycling Technology Zone". The Zone is designed to demonstrate the implementation of closed-loop industrial supply chains and advanced technologies for each session throughout the recycling production line, from sorting, crushing, cleaning, and drying, to smart granulation systems. The bio-based plastics and bio-composites shown in the "Bioplastics Zone" not only can be used in a wide range of applications such as packaging, electronic appliances, toys, children products, automobiles,and 3D printing but also are degradable, compostable, environmentally friendly, non-toxic and as affordable as petroleum-based plastics.
Reshaping the Space for Development with Intelligent Manufacturing and Industrial Design
The manufacturing industry has been facing growing demographic challenges, with fewer millennialwilling to do repetitive work in a factory, along with increasing labor costs. Labor productivity and economic benefits can be fundamentally increased by "reshaping" the manufacturing sector's traditional production approach and mode of operation and supporting the business with the latest-generation information technologies. 5G's high speed, huge capacity,and low latency, for example, will further foster the rapid development of intelligent manufacturing.
Digitalization and automation have become the standards for future development of the manufacturing industry. In view of that, Chinaplas 2019 showcases a massive number of "smart" manufacturing solutions, such as integrated intelligent manufacturing devices that improve productivity, and liquid silicone injection molding machines that offer high precision and speed.
"We have successfully held the 'Industry 4.0 Conference' over the past three years," saysAda Leung."This year, let's step outside the conference room. We will concurrently hold the 'Industry 4.0 Factory of the Future', which demonstrates the implementation of Industry 4.0 in real-life settings at the exhibition venue. The event is intended to showcase the revolutionary changes brought by digitalization to factory managers and production processes, and thus improve quality and efficiency, reduce costs, and encourage more young people to devote themselves to the manufacturing industry," she said.
Two theme areas –– "Manufacturing Intelligence Control Room" and "Smart Factory" –– will display real-time operating data with big screens connected to devices from different booths at the show and factory sites remote from the exhibition venue. In collaboration with injection molding machine manufacturers and associated facility suppliers, these displays will simulate the operation of future factories to provide plastics and rubber industries' executives and plant managers with insights about using production data for analysis, problem fixing and daily management of factories. Such knowledge will help to enable enterprises to catch up with the Industry 4.0 wave.
Industrial design also is playing an ever more important role in maximizing the potential of future product development. Continuing a popular feature from past shows, this year's fair will again partner with other industries, and present the concurrent event "Design x Innovation", which comprises three parts – "CMF Inspiration Walls", "Design Forum" and "Chinaplas Designers' Night". Together, these activities and displays will help to spark creativity and inspiration. The "CMF Inspiration Walls" display a rich variety of resources for Color, Material, Finish (CMF) design, allowing visitors to have a close look at the exhibits and touch them. The "Design Forum" assembles globally renowned design masters and plastics technology suppliers to share the unlimited possibilities of product innovation and environmentally friendly design. The "Chinaplas Designers' Night", themed "Connect & Inspire", is a cross-industry party with the plastics and electronic information industries. Participants can share their ideas for product design while enjoying delicious food and the cozy atmosphere.
Dream of a Better Future
Just as a towering skyscraper starts with a foundation, a journey of a thousand miles begins with a single step. For a better future, let's stick together, act proactively, embrace the challenges and pursue our dreams. There truly is something for everyone in the plastics and rubber industries at Chinaplas.
Top 10 New Materials Highlights
1 Fiber reinforced composites
2 Lightweight materials for new energy vehicles
3 Highly functional materials for 5G telecommunications
4 Graphene-based electrically conductive plastics
5 Medical grade plastics & silicon rubber with clean, transparent, chemical-resistant properties
6 High-performance thermoplastic elastomer
7 Degradable, bio-based and recyclable materials
8 Additives to reduce VOC emission, change color& brightness
9 Liquid additives & masterbatches
10 New eco-friendly and specialty plastics for 3D printing
Top 10 Processing Technologies Highlights
1 Industry 4.0, digital manufacturing solutions
2 Cost-effective and high-quality small batch, diversified production
3 Automatic all-in-one machines
4 LSR injection molding technology
5 Multi-layer injection/ multi-layer co-extrusion technologies
6 All electric extrusion blow molding machines
7 Specialized high-quality film technology (production of ultra-thin film for capacitor, battery separator film, touch-screen film, etc.)
8 In-mold decoration technologies, combination of PU in-mold coating and flexible manufacturing technology
9 Recycling Technologies (covering whole recycling production solutions – sorting, shredding, washing, pelletizing, etc.)
10 Extrusion machinery for medical industry (production of precision tube, infusion, dialysis, drainage tube)
Chinaplas 2019 is organized by Adsale Exhibition Services Ltd. and Beijing Yazhan Exhibition Services Ltd. and co-organized by China National Light Industry Council - China Plastics Processing Industry Association, China Plastics Machinery Industry Association, Guangdong Plastics Industry Association, Messe Düsseldorf China Ltd., the Plastic Trade Association of Shanghai. The event is also supported by various plastics and rubber associations in China and abroad.
First introduced in 1983, Chinaplas has been approved by UFI (The Global Association of the Exhibition Industry) since 2006. Chinaplas is exclusively sponsored by the Europe's Association for Plastics and Rubber Machinery Manufacturers (EUROMAP) in China for the 30th time. Chinaplas is the world's leading plastics and rubber trade fair.
Source: Chinaplas Press Service