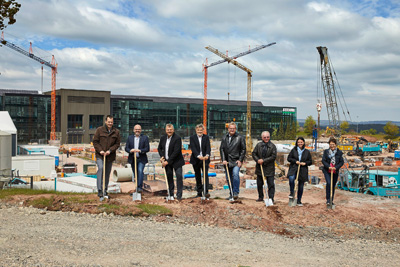 New assembly hall for large injection moulding machines and turnkey systems

Investment in the double-digit million euro range

Sole production site to grow to almost 200,000 square metres
May, 20, 2019 - On 16 May 2019, Arburg officially marked the start of construction on a new assembly hall with a ground-breaking ceremony. With the new building, production capacities for large Allrounder injection moulding machines and customer-specific turnkey systems are being further expanded. The investment volume amounts to tens of millions of euros. With this expansion, Arburg demonstrates its commitment to its central production site in Lossburg, which will grow by around 17 percent to almost 200,000 square metres by 2020.
"In terms of building activity, we have been in a state of rapid progress since 2007: Customer Center, assembly hall, parking structure, exhibition logistics hall, Training Center and now a new assembly hall," explained Michael Hehl, who as Managing Partner is responsible for plant development, in his speech at the ground-breaking ceremony. Over the past twelve years, a considerable sum in the hundred-million euro range has been invested in new buildings at the Lossburg site alone. In addition to the new buildings, Arburg invests around four percent of its annual turnover in its single production site.
Large machines and turnkey systems in great demand
"We are one of the world market leaders and continue to manufacture our high-quality machines for plastics processing, which our customers then use around the globe, with great success exclusively in Lossburg," said Michael Hehl. The company has seen continuous growth for many years regarding large injection moulding machines up to 6,500 kN clamping force and customer-specific turnkey systems. This had already prompted the construction of the assembly hall that opened in 2016, but whose capacity is now reaching its limits.
Figures
The new hall will have a usable floor space of 28,500 square metres, of which 21,900 are available for production and administration. 3,700 square metres are reserved as a technical area and 2,900 are traffic area. The building volume totals 195,000 cubic metres. The ground floor is scheduled to be ready for use in the second half of 2020. To further illustrate the dimensions of the construction project, Michael Hehl gave some impressive figures: "The excavated earth amounts to around 64,000 cubic metres, and the glass façade has a surface area of around 4,800 square metres. A total of 14,000 cubic metres of in-situ concrete and 2,000 tons of reinforcing steel will be used, while the pre-cast elements with a volume of 5,000 cubic metres contain 1,500 tons of steel."
Environmental protection and resource conservation
"As with all our construction activities, the focus is not only on functionality and aesthetics," the Managing Partner stressed. "Environmental protection and the sparing use of resources and energy traditionally play a key role and have always been an integral part of our corporate culture."
Various measures are being implemented in the new building to reduce its primary energy requirements to a minimum. This includes, for example, the use of geothermal energy for heating and cooling via 30 borehole heat exchangers with a depth of 199 metres each, the utilisation of waste heat from machine test benches, compressors and ventilation systems and the expansion of the photovoltaic systems by a further 380 kilowatts peak. This is complemented by the use of rainwater and natural light.
Lossburg's mayor Christoph Enderle also emphasised Arburg's consistent ecological orientation in his welcoming address, saying that he was proud to have such a model company in his district and thanking the company for its continuous investments in Lossburg.
The new building is realised in cooperation with the architectural firm Schmelzle + Partner. It is already the 22nd Arburg project in a row, as architect Siegfried Schmelzle emphasised in his address: "We have been carrying out construction for Arburg since 20 years, and during this time the usable area of the Lossburg parent plant has doubled." For each new building, the aim is to seek potential for improvement and to become even better than before. As challenges for the new assembly hall he cited the entire logistics – also within the halls –, the topography and drainage as well as the topic of optimising energy consumption. "In this respect, Arburg manages to fall more than 60 percent below the already ambitious requirements of the Energy Saving Ordinance," said Siegfried Schmelzle proudly. Much has already been done on the new construction site and he is now delighted that "the ground-breaking ceremony marks the official start of an ambitious and ecologically pioneering project as well as a new milestone at Arburg."
Source: Arburg