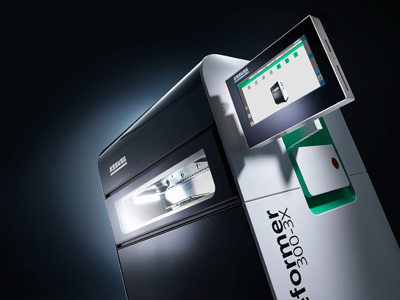 World premiere: large Freeformer with three discharge units and more space in build chamber

Additive manufacturing of complex, resilient functional parts in hard/soft combination

Arburg offers more machine sizes, more parts, more exhibition stand
September, 21, 2018 - At the Formnext, to be held from 13 to 16 November 2018 in Frankfurt am Main, Germany, Arburg (www.arburg.com) will be celebrating a world premiere with its Freeformer 300-3X. The new large machine will process three components using the Arburg Plastic Freeforming (APF) process, enabling the industrial additive manufacturing of complex functional parts in resilient hard/soft combinations with support structure as a world first. In addition to the new "big version", two proven Freeformer 200-3X machines will be on view. At the Arburg exhibition stand E70 in hall 3.1, trade visitors will also be able to view more part samples before and test them for themselves at four interactive stations.
"For many years, users have appreciated the benefits of our Freeformer 200-3X and the possibilities that the system and Arburg Plastic Freeforming have to offer," says Lukas Pawelczyk, who has been responsible for Freeformer sales worldwide since July 2018. "As a revolutionary next step, we're celebrating the world premiere of the Freeformer 300-3X at the Formnext 2018, which will expand the Arburg product range and open up new fields of application. For the first time worldwide, complex and resilient functional parts can be produced from three components in hard/soft combination with support structure using this machine for industrial additive manufacturing – that's unique in the industry."
Space for larger parts
With the Freeformer 300-3X, the designation 300 stands for the available part carrier surface area in square centimetres. This is just under 50 percent larger than on the Freeformer 200-3X. The build chamber now offers space for larger small-volume batches and 50 percent wider parts with dimensions of up to 234 x 134 x 200 millimetres. "3X" stands for the moving axes of the part carrier in the x, y and z directions.
Build chamber designed for automation
A two-part build chamber door is a new feature on the Freeformer 300-3X. This enables the feed hoppers, for example, to be refilled during ongoing operation by opening the top half of the door. The heated build chamber now only needs to be opened for inserting the part platform and removing the finished parts. Automatic opening and closing of the build chamber door, as well as optional interfaces, also enable automation of the additive manufacturing process and integration of the Freeformer in complete production lines.
Wider range of applications
With the two Freeformers 200-3X and 300-3X, Arburg will in future cover a significantly broader range of applications. Trade visitors will be able to gain an impression of these at the Formnext 2018 based on three exhibits and a host of parts, including a selection of two and three-component items. The exhibited functional parts include, for example, a two-component gripper as a hard/soft combination, cable clips made from PP, transparent test discs made from PMMA and bellows made from medical TPE-S.
Open system offers great material freedom
Users can process their own original materials and optimise droplet size as well as process control with the open Freeformer system. The Arburg material database documents qualified standard granulates such as ABS (Terluran GP 35), PA10 (Grilamid TR XE 4010), PC (Makrolon 2805), TPE-U (Elastollan C78 A15) and PP (Braskem CP 393). Further examples include special plastics for specific applications such as medical PLLA (Purasorb PL18, Resomer LR 708) and a PC (Lexan 940) approved for aerospace use. The range of qualified materials is continuously being expanded.
A German family-owned company, Arburg is one of the leading global manufacturers of plastic processing machines. The product portfolio encompasses Allrounder injection moulding machines with clamping forces of between 125 and 6,500 kN, the Freeformer for industrial additive manufacturing and robotic systems, customer and industry-specific turnkey solutions and further peripheral equipment. Arburg is represented by its own organisations at 33 locations in 25 countries and by trading partners in more than 50 countries.
Source: Arburg