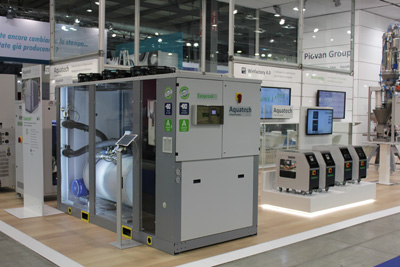 In order to increase finished product value, improve the production process and optimise energy use, Aquatech has designed Easycool+, a new range of Ecodesign 2021-ready chillers.
May, 28, 2018 - Plastics conversion processes are now consolidated, so how can one achieve an even better product while still minimising overall costs ? Aquatech says its new Easycool+, a new range of Ecodesign 2021-ready chillers, increases finished product value while improving the production process and optimising energy use.
In most cases, chillers are not designed and calibrated for this specific use but have been merely been adapted:
If they are effective in the process, their costs and energy consumption are high because they were not conceived for this kind of application, and energy outlays push up production costs;
If they are inefficient, their initial costs are lower but they have to be run at full capacity: expensive maintenance and imprecise temperature control negatively impact finished product quality and costs.
According to Aquatech, its Easycool+ overcomes this problem because it is a chiller conceived, designed and built for cooling in industrial processing of plastics. It presents flexibility, energy efficiency, reduced footprint and low environmental impact, Aquatech claims.
The company says that Easycool+ has been designed in line with the energy efficiency targets set for 2021 - Ecodesign Regulation 2281/2016 - for a range of equipment including both air- and water-cooled chillers. This directive enforces compliance with seasonal efficiency parameters, the SEPR (Seasonal Energy Performance Ratio).
The optimum temperature ensures the best product quality.
When processing plastics, the temperature ranges to be maintained for different processes can vary significantly, even by as much as fifty or more degrees, demanding different pressures and flow rates from the chiller: According to Aquatech, Easycool+ has the flexibility to maintain optimal working conditions at all times.
The manufacturer says that Easycool+ range of chillers were specifically developed for plastic conversion processes, and, therefore, offers a multiple benefits in a wide range of areas:
Plug&Play technology with integral circuitry in the machine: eight different hydronic versions available for each model, with or without thermal storage, and specific versions for use at extremely high flow and pressure;
A system built with Easycool+ is sized to ensure the lowest possible refrigerant load, with an immediate environmental and economic benefit measurable in tonnes of CO2 equivalent not released into the atmosphere;
Robustness, quality components and comprehensive configuration;
High energy efficiency, available in both Class B and Class A;
Compact design;
Power range from 60 to 250 kW, for maximum flexibility of use.
Easycool+ is available with two different types of evaporators:
Brazed plate, the preferred choice when clean water is to be used in the cooling process;
Shell and tube, for situations where treated water is not available.
According to Aquatech, the steel beam frame ensures strength and safety, even during transport or handling in difficult conditions, where there is often a high risk of damage to the machinery. Quality internal components ensure quality and long-life.
Easycool+ has reduced maintenance costs. All components are arranged inside the unit for easy access by the maintenance technician with maximum convenience. The refrigerant circuit is designed for periodic testing in accordance with current European legislation. The state-of-the-art control software allows operating parameter monitoring and troubleshooting, even remote. The software can also be connected to Piovan's Winfactory 4.0 supervision software.
The new chiller range was launched at Plast 2018.
Aquatech is the Piovan company that designs and builds cooling systems for industrial production where performance, optimisation, and energy efficiency define the quality of the product. The company opened its doors in January 2015 and represents the natural evolution of Piovan's existing chiller division that has designed, produced and supplied chiller solutions to the industry for the latest 40 years. Aquatech product range includes: air and water cooled chillers, thermochillers, mould temperature controllers, drycoolers, pump stations, integrated solutions.
Piovan, headquartered in Santa Maria di Sala, Venice, was founded in 1934 as a mechanical engineering company; in 1964 enters the plastics industry, specialising in material handling technologies and, subsequently, in mould temperature control and industrial cooling. Nowadays, with 7 production facilities located in Italy, Germany, Brazil, China and USA, 26 subsidiaries, representatives for more than 65 countries and a workforce of 998, the group has consolidated its position in global industry of ancillary equipment, engineered solutions and services.
The brands of the Piovan Group are:
Piovan - material handling, size reduction, supervision software
Una-Dyn - material handling, supervision software
Fdm – engineering solutions for extrusion applications
Aquatech – solutions for industrial cooling and temperature control
Penta – engineering solutions for powder treatment and food ingredients management
Progema - design of automation and industrial process control systems
Energys - projects and services for energy efficiency

Source: Piovan