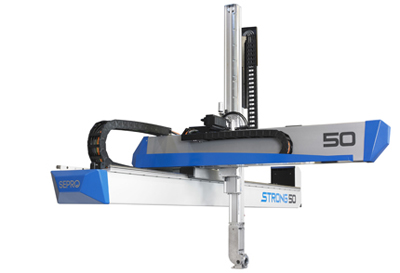 After two years in recession, the Brazilian plastics industry is showing signs of recovery and Sepro do Brasil is planning to participate in both of the plastics shows scheduled to take place in São Paulo this year. The supplier of robots for injection molding, which is part of Sepro Group, La Roche sur Yon, France, will have its own stand (D-208) in the new Plástico Brasil exhibition scheduled for March 20 – 24. At the Feiplastic trade fair, taking place April 3 - 7, Sepro will have another display (B-57) and four additional robots operating in the booths of several key injection-molding machine suppliers.
Sepro Group is the fastest growing robot supplier in the global plastics injection-molding market. In 2016, the company celebrated its four consecutive year of record sales, reporting over EUR 103 million in turnover, which represents an increase of 11% over 2015. Thanks to steady expansion of its product line and technology base, as well as growth in important global regions like Brazil, Sepro has been able to quadruple its sales since the depths of the Financial Crisis in 2009.
Strong robots at Plástico Brasil
Sepro will exhibit three robots, both big and small, on its stand at Plástico Brasil, which takes place at the São Paulo Exhibition and Conference Center. The highlight of Sepro's booth is expected to be a Strong 50 robot (photo), which has been designed for injection-molding machines with up to 1600 tons of clamp. These large machines are often used in the automotive industry and so the Strong 50 will be manipulating automobile components at the show.
The Strong 50 is the middle of three models in the Strong range of robots, which was developed to bring 3-axis servo speed and precision to molders who have applications that require simple pick-and-place functionality and simple downstream operations. Built with the quality and reliability of all Sepro robots, the Strong range uses a design approach and production methods allow Sepro to make an affordable robot with enhanced capabilities. Basic specifications for all three units are:

High-Performance 5-Axis Robot
Representing the Sepro 5X Line of robots with five axes of servo motion, the 5X-25 will be shown handling an automobile front-end grill. The 5X Line is based on the same basic mechanical platform as the S5 3-axis robots, but adds a 2-axis servo-driven wrist developed in partnership Stäubli Robotics.
Unlike pneumatic wrists, which can only move in a continuous arc from 0° to 90° or 0° to 180°, the 5X wrists can move from 0 to 180° and 0 to 270° or any part of those rotations with absolute precision. This allows the robot to complete very complicated motions in all axes simultaneously and do it very precisely and with perfect repeatability. The servo wrist can grip and position parts at any angle making the robot much easier to set up and operate and allowing for simpler end-of-arm tooling.
Specifications for all three of the 5X Line robots are:

New S5 Picker
Plástico Brasil marks the South American debut of Sepro's newest sprue picker. The S5 Picker is a fast and versatile beam-mounted Cartesian sprue picker with 3 servo-driven axes. Based on the same basic mechanical design as the Sepro Success range of economical, general-purpose robots, the S5 Picker comes standard with a simple sprue gripper but it can be supplied optionally with an R1 wrist rotation and can be fitted with simple end-of-arm tooling. The standard picker operates entirely inside the IMM footprint. An optional configuration increases the horizontal stroke from 23.6 in. (600 mm) to 39.4 in (1000 mm) so it can be used to evacuate sprues or small parts outside the IMM.
IMM Suppliers Demonstrate Sepro Robots
Sepro robots will also be operating on the stands of two well-known injection-molding machine suppliers:
• Sumitomo Demag, in booth B-070 will be using a 3-axis Sepro S5-25 robot in an in-mold labeling application on a Demag Intelect 350T machine.
• Romi, stand E-106, will be molding a rectangular bucket on a Romi 600T machine. It will be removed by a Sepro Success 33 general purpose robot.
Sepro Robots at Feiplastic
Sepro will have a booth (B-57) at the Feiplastic show being held at Expo Center Norte in São Paulo in April. The company will exhibit an S5 Picker (see description above) and other Sepro robots can be seen running in injection-molding demonstrations elsewhere at the show.
Haitian (D-50) will be operating a Sepro 5X-25 on a Jupiter II 550T machine, removing an automobile part and simulating a flaming operation.
Haitian is also exhibiting in the new "Ilha da Inovação" section of the show, which showcases new technology. A Sepro Success 11 will be running on a Haitian Zeres 150T machine. It will mold a cosmetics part in an 8-cavity mold with a weight control checkpoint
Alfainjet (Borchê), in E-35, will also have a Success 11 operating on a Borchê BH 120T high-speed IMM.
Alfamach (Yizumi), on stand E-48, will have yet another Success 11 removing and automobile part from a single-cavity mold on a Yizumi Elec FE 180T machine.
Sepro was one of the first companies in the world to develop Cartesian beam robots for injection-molding machines, introducing its first CNC controlled "manipulator" in 1981. Today, having equipped more than 30,000 injection-molding machines, Sepro Group is one of the largest sellers of robots in the world. Its 3-, 5- and 6-axis servo robots, special-purpose units and complete automation systems, are all supported by the Visual control platform developed by Sepro especially for injection molders. This unique controller is a key component in what the company refers to as 'agile integration' – a collaborative approach to equipment connectivity and interoperability that can be tailored to exactly suit the specific needs processors and injection-molding OEMs.."
Source: Sepro