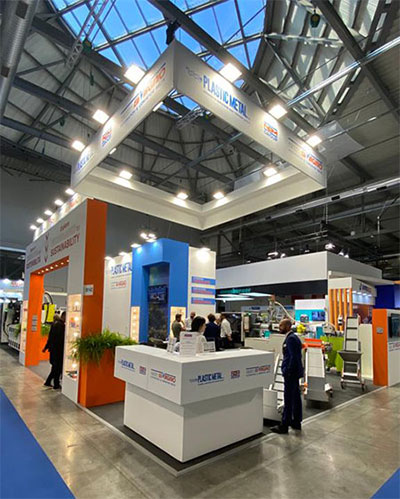 September, 11, 2023 - Plastic Metal, the Italy-based injection molding machine manufacturer, was on display at PLAST 2023 exhibition (September 5-8) with the motto "one technology, endless solutions". According to the company, the motto refers to its Multipower machines which are adaptable and capable of implementing various processes, such as co-injection and the manufacture of innovative materials.
Based in Gambellara (VI), Plastic Metal produces injection molding machines for thermoplastics with a clamping tonnage ranging from 50 to 3200 tons (toggle clamping system from 50 to 3200 tons and two platen closing system from 550 to 2050 tons).
During Plast 2023, Plastic Metal presented two complete moulding exhibits.
The first one was a Multipower SP 120 machine, with a double toggle closing system and a clamping tonnage of 120 tons, which produced lids for take-away cups in PP - with Ø 90mm, 6.2 grams and a cycle time of 3,6 sec. The machine was equipped with a high-speed tunnel conveyor belt covered in Lexan, which unloaded the lids into a granulator for recycling.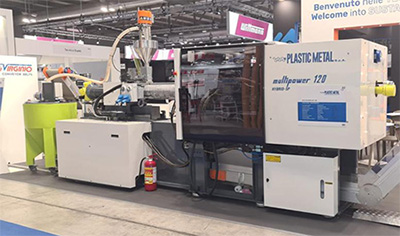 According to Plastic Metal, Multipower SP combines high performance and energy savings with low costs, reliability over time, and the simplification of routine maintenance operations. The SP system with servo-pump is based on the use of an electric brushless motor with permanent magnets connected to a high-performance gear pump. The variable speed servo motor control driver adjusts the pressure and the flow parameters of the hydraulic system to obtain the right amount of oil for each movement. The partialization of power used allows for the total shutdown of the engine in the static phases of the production cycle. This results in energy savings up to 60% , especially in processes with long cooling times, Plastic Metal claims. Thanks to the efficiency of the system, hydraulic system cooling is also optimally managed, avoiding overheating of the oil, the company says.
Another moulding solution displayed at the show was the Multipower DUO SP 800 model, a 800 ton-two platen closing system IMM which manufactured ornamental flower vases in PP with Ø 350mm., height equal to 450 mm., and 1.025 grams in weight. The machine was equipped with a robot and a special conveyor belt with protection cage. The cycle time was about 55 seconds for a production of 65 pieces / per hour. In this solution, the moving platen slides in the blade thanks to roller sliding blocks on linear guides, whereas on the four tie bars operate four tonnage traction pistons which are guided by dedicated servo-pumps that control the opening and closing movement until the total engine shutdown. The rotary movement of the screw is electric, with high efficiency and energy savings, Plastic Metal claims.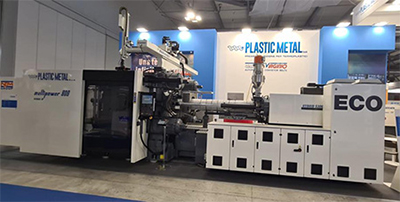 Focusing on the circular economy and sustainable solutions, there was also on display an area dedicated to co-injection, a cutting-edge process that can bring together cost-effective production and environment-friendly solutions. Different types of products with up to 65 % recycled material were on display. Those products were manufactured through different moulding technologies with Multi-Injection machines. Thanks to the technological integration of Multi-Injection machines with recycled materials, it is possible to accomplish innovative and efficient solutions in the field of sustainable technologies, Plastics Metal assures. The company says it has more than 25 years of experience on co-injection technology and, as result of the recent development on Multipower "Multi-Injection" machines, it is possible to obtain large savings of spare parts, reducing the environmental impact and production costs.
Plastic Metal says it is specialized in providing specific flexible solutions in order to satisfy the customer's production needs by offering a consolidated technical know-how and assistance service. Plastic Metal's machine production occur entirely in Italy with components of European and American brands. Plastic Metal's Multipower technology is at the base of a series of injection molding machines designed to ideally meet various molding situations and requirements.
Models distinguish themselves by a 5-point toggle clamping system - from the hybrid SP with servo-pump to different combinations of hybrid H and HE with accumulators, Multi-Injection models and DUO models with two platen closing system. The range of machines is completed with a full-electric machine, Elettrika, where all movements are electrically operated. The various ranges of available machines and the capability to manufacture special ones allow Plastic Metal to satisfy with flexibility the specific needs of different market segments, the company assures.
Plastic Metal claims all available machines allow for energy savings, which results in production efficiency and environment protection. Customized mold and energy consumption tests can be carryied out with customers to check for performance and energy savings of the Multipower technology.
During the exhibition in Milan, there was also an area dedicated to F.lli Virginio S.r.l, an Italian company belonging to NPM group. With 40+ years of experience, F.lli Virginio builds internal transport systems, automation, and accessories for plastics molding processes with complete work islands (such as conveyor belts, hopper loaders, dosamasters, mixers, granulators). Three conveyor belts with a special configuration and accessories were also on display at the stand.
F.lli Virginio S.r.l creates systems and applications not only for plastics, but also for other industrial processes - from the the planning stage to the production of customized solutions. The range of solutions addresses problems faced by other processes, such as blow molding, screen printing, packaging, and material recycling.
The intra-group collaboration between Plastic Metal and F.lli Virginio and the synergy with qualified partners allows the group to offer customers complete Turnkey plants.
Plastic Metal and F.lli Virginio represent an original "Made in Italy" without foreign influence regarding ownership or productive locations. Both companies are proud ot their Italian and international customers who have made business with the two Italian brands for 63 and 46 years, respectively.
Source: Plastic Metal