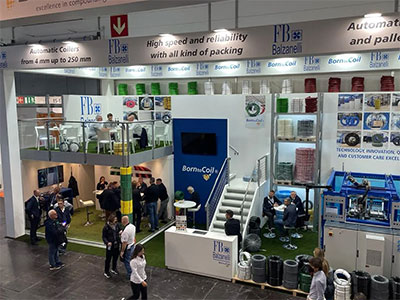 The latest creation by FB Balzanelli, TR0601CXS, was exhibited at FB Balzanelli´s stand
November 16, 2022 - At K 2022, the Italian manufacturer displayed its fully automatic coiler with strap specifically for corrugated pipe extrusion lines.
Corrugated pipe production has reached speeds as high as 70 m/min. FB Balzanelli says this is the reason why the company developed a new coiler capable of supporting such efficient extrusion lines while keeping the perfection of the coils and automatic palletizing possibilities unchanged.
The Italian manufacturer says the new machine completes its range of offerings in automatic coilers dedicated to corrugated pipes. FB Balzanelli claims that it is possible now, with TR0601CXS, to produce coils varying in length between 10 and 100 metres at high speed, and without changing the type of packing as one machine can cover all coils length. Also, the strap solution reduces the amount of plastic used for packaging compared with other solutions available in the market.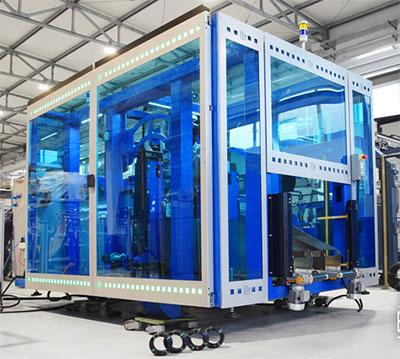 According to FB Balzanelli, TR0601CXS is aimed at optimising production and reducing transport costs, being the fastest corrugated pipe coiler in the market today.
The new TR0601CXS coiler is available in two versions: with 4 straps and an internal diameter of only 100 mm, to reduce the coil dimension and optimize the transport cost as well as in a 6 straps version, with an internal diameter of 180 mm, which is one of the smallest available in the market, allowing for an important reduction of the transport cost, the company claims.
FB Balzanelli says that other features of the new TR0601CXS automatic coiler include the flexibility of the external coil diameter (no limits); a new strapping system designed to reduce the strapping cycle; possibility of producing 10 metre coils with a speed of 40 m/min or sizes starting from 25 metres with a speed of 75 m/min; fast reels change; greater coiler autonomy and a compact size.
Operating in the automatic coiler sector for over 25 years, FB Balzanelli is a leader in the segment of of automatic coilers and automatic palletizing systems. The company has been in the forefront in its proposals in the automatic coiler selector, such as side-by-side reels, the fully pneumatic strapping unit, or the special haul off to reduce the pipe ovalization.
Source: FB Balzanelli