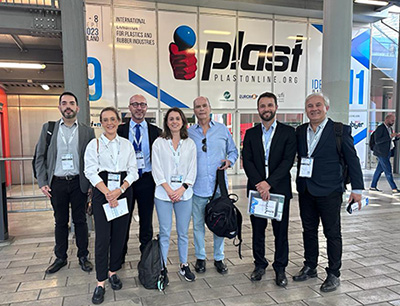 September, 9, 2023 - The 19th edition of PLAST exhibition started in Milano (Italy) last Tuesday with a strong attendance of professionals from the Plastics and Rubber Industry from Italy and abroad.
The event has more than 1,300 Italian and foreign exhibitors and occupies 7 pavilions at Fiera Milano, in Rho, being one of the largest exhibitions around the world dedicated to technologies for the manufacture and conversion of plastic and rubber materials.
For this year's edition, the Italian Trade Agency (ITA), the government organization dedicated to the promotion of "Made in Italy" brand abroad and the attraction of foreign investments to Italy, together with AMAPLAST, the Association of Italian Plastic Machine Manufacturers, actively promoted the exhibition abroad, including the organization of delegations from 24 countries, which comprise a total of 162 professionals, businessmen and journalists which are visiting the fair in Rho.
ITA's Brazilian office in São Paulo organized a mission of Brazilian business professionals from the plastics sector to visit the fair and get in contact with the latest innovations displayed by world leading companies exhibiting in Milano. The Brazilian professionals have already scheduled business meetings with potential suppliers to take place during Plast 2023, in addition to visiting plants of exhibiting companies.
The companies represented in the mission include Tecnoperfil, Fastparts, Helptech, Zenaplast, Promaflex and Geplast.
According to Ferdinando Fiore, director of ITA's São Paulo office, the Italian industry of machines for plastics and rubber processing sold more than 4.35 billion euros in 2022 (8% more than in the previous year), with almost 73% of the sales coming from abroad - which places Italy in third place among the world's largest exporters of machinery for the sector. Brazil is among the 20 largest international markets for Italy products and services and ranks among the main destinations for Italian exports of machinery and molds for plastic and rubber processing in Latin America: in 2022, Brazilian companies purchased more than 53 million Euros in technology for the sector, including extrusion machinery and molds which represent almost a third of the total value acquired in the European country.
The event will be open to visitors until next Friday, September 8th.
More information can be found on the website: www.plastonline.org