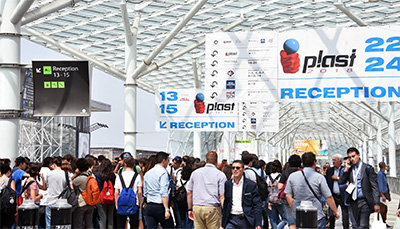 Collectives, broad representation of foreign exhibitors and buyers, focus on networking
The plastics and rubber industry will be meeting at PLAST 2023 from the 5th to the 8th of September in the halls of the Fiera Milano fairgrounds in Rho.
July 28, 2023 - In addition to the Italian companies, the 2023 edition of PLAST is characterized by the strong presence of exhibitors and visitors, as well as buyers representing over 250 operators in the industry from 30 countries and the best performing export markets. An outcome deriving from the constant commitment to the building a network of relations that makes it possible for the exhibitors to find unique opportunities for networking during the days at the fair.
There is a significant presence of collectives from China, France, and Iran, three markets that have performed quite well in terms of imports of technology for the production of plastics. Italian exports in 2022 to the three countries amounted to 149.27 million euros (4.6%), 148.94 million euros (4.59%), and 6.9 million euros (0.21%), respectively.
Looking at the main export markets for Italian manufacturers of plastics and rubber processing machinery, Germany is in first place with 422.6 million euros (13.02%) followed by the United States with 346.62 million euros (10.67%), and Poland with 179.76 million euros (5.54%). In this ranking, China and France occupy 4th and 5th place, respectively.
There are also initiatives addressed to specific international markets with an intensive programme of PLAST presentations, particularly on tours to key sector fairs such as EQUIPLAST in Barcelona and PLASTEXPO in El Jadida (Morocco), and participation in collectives at Saudi PPP in Riyadh, CHINAPLAS, and Plastico Brazil.
Innovation for the plastics market
The 6 halls hosting the fair present a wide-ranging mix of technological innovation and sustainability: from materials to processing, from finished products to services and the most advanced solutions developed by manufacturers of plastics and rubber processing machinery, equipment, auxiliaries, and moulds. A special area is devoted to the satellite fairs 3DPlast, dedicated to additive manufacturing, Rubber, as the name suggests, and PLAST MAT, which looks particularly at innovative solutions for materials.
The big event in Milan is drawing closer
The future of the plastics and rubber industry is in Milan from 5 to 8 September, in an event currently numbering over 1,200 registered exhibitors, of whom hundreds are international, occupying the six halls with innovative technological proposals. Official buyer delegations are also expected from at least thirty countries. Pre-registration is open for professional operators who wish to interact with a specialized market and get a close look at solutions meeting all their product, technology, systems, and business needs.
Source: PLAST 2023