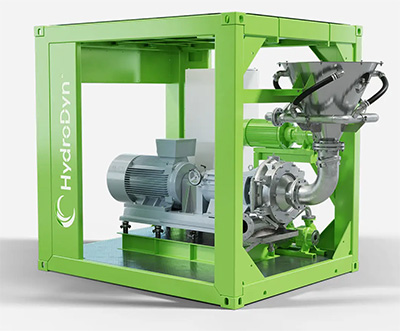 July 28, 2023 - Next Generation Group has acquired a majority share in HydroDyn, a company specialized in plastic waste cleaning and purifying. The company said this strategic partnership solidifies Next Generation Group´s commitment to offering comprehensive plastic recycling solutions, particularly in the field of post-consumer recycling.
Under the terms of the agreement, HydroDyn will retain its operational independence while working closely with Next Generation Group. This collaboration will allow both companies to offer end-to-end plastic recycling solutions within the recycling machinery market. The shared objective is to prioritize the attainment of specific polymer characteristics that are essential for a diverse array of commodity applications, in order to effectively substitute virgin plastics.
"By joining forces with HydroDyn, Next Generation Group is well-positioned to meet the increasing demand for integrated plastic recycling solutions," stated Josef Hochreiter, CEO of Next Generation Holding GmbH.
The acquisition provides HydroDyn with access to Next Generation Group´s global network, allowing for new opportunities for growth and expansion. Michael Hofmann, CEO of HydroDyn, said: "Joining the group not only gives us access to a world-class network but also provides the financial backing and stability needed to realize our ambitious growth plans. Together, we can make a greater impact on plastic waste reduction."
The partnership between HydroDyn and the Next Generation Group reinforces their market position and benefits both companies as they will be able to offer holistic solutions for post-consumer recycling. This collaboration enables them to address the entire lifecycle of plastic materials, from product design to the recycling process.
Next Generation Group, an Austrian company founded in 2014 in Feldkirchen/Donau, brings together knowledge and technologies that cover the product lifecycle under one roof. Comprising independent entities such as NGR, NGE, and shares in the NGA group including COLLIN Lab & Pilot Solutions, BritAS, and COMELT, the group offers solutions ranging from product design to advanced recycling, aiming to close the loop and keep plastic in circulation.
HydroDyn is an engineering company headquartered in Hamburg, Germany, with a R&D and technology center in Schwerin, Germany. Established in 2015 as a start-up, HydroDyn specializes in providing plastic waste treatment solutions centered around its core cleaning and purifying technologies, based on its unique HydroCleaner. With a team of 40 professionals in mechanical, process and process water engineering, HydroDyn offers technology to prepare waste material for mechanical and chemical recycling.
Source: Next Generation Group