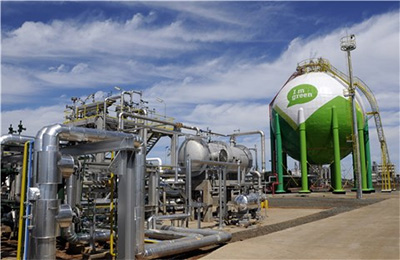 The Brazilian bio-based ethylene facility is now operating at a capacity of 260 thousand tons per year. The celebrated expansion of the industrial scale bio-ethylene plant comes thirteen years after Braskem's I'm green bio-based plastics was first sold globally.
July 27, 2023 - In June, Braskem concluded a 30% increase in the production capacity of its bio-based ethylene plant, located in the Petrochemical Complex of Triunfo, Rio Grande do Sul, Brazil. The US$ 87 million investment aims to meet the growing global demand for sustainable products. The plant now operates at an increased capacity from 200,000 to 260,000 tons/year. Braskem's bio-based ethylene is made from sustainably sourced, sugarcane-based ethanol which removes CO2 from the atmosphere.
The initiative is an important development in the company's ambition to increase the production of biopolymers to one million tons by 2030, and to become carbon neutral by 2050.
"The expansion of bio-based ethylene capacity emphasizes Braskem's commitment to sustainable development and innovation, and proves the success of the strategy we engaged in thirteen years ago, when we launched the world's first bio-based polyethylene production at industrial scale, with proprietary technology. We want to meet society's and customers' demand for products with less impact on the environment," explains Walmir Soller, O/P VP for Europe and Asia and responsible for the I'm green bio-based business globally.
Each ton of plastic resin made from renewable feedstock represents the removal of 3 tons of CO2 from the atmosphere, Braskem claims. Since the plant startup in 2010, more than 1.2 million tons of I'm green bio-based polyethylene has been produced.
Braskem is one of the world leaders in the production of biopolymers. Today, the portfolio of bio-based resins is exported to more than 30 countries and is used in products from more than 250 major brands, such as Allbirds, DUO UK, Grupo Boticário, Johnson&Johnson, Natura & Co, Nissin and Tetra Pak. These bio-based resins are used to manufacture packaging, bags, toys, housewares, industrial cables and wires, packaging films, hockey fields, reusable water bottles among many other products.
With 8,000 team members dedicated to the production of solutions in chemicals and plastics, Braskem offers a comprehensive portfolio of plastic resins and chemical products for diverse industries, such as food packaging, construction, manufacturing, automotive, agribusiness, health and hygiene, and more. With 40 industrial units in Brazil, United States, Mexico and Germany and net revenue of R$52.3 billion (US$13.2 billion), Braskem exports its products to clients in over 100 countries.
Source: Braskem