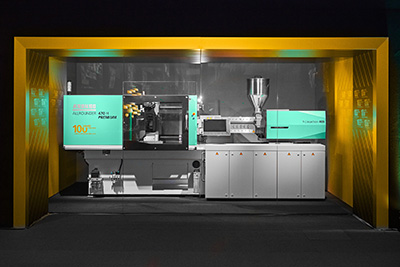 Trendsetting: Electric machines
Increased: Interest in recyclable materials
Cooperation: At partner stand with Sverital
July, 31, 2023 –Arburg's expectations in Italy for the second half of the year are based on an increase in industrial production and rising investment. Arburg is responding to buyers' desire to save energy and the country's increased need for sustainability with its presence at Plast 2023 in Milan (stand C/D 61/62 in Hall 22). From 5 to 8 September Arburg will show the full range of technologies and will also present an interesting cooperation with Sverital in the field of silicone processing.
Arburg is meeting changing needs in Italy with future-oriented exhibits and has traditionally valued Plast as the key local trade fair for the plastics industry. "The market is moving towards electric machines and drives mainly for reasons of precision, energy efficiency and sustainability," observes Raffaele Abbruzzetti, Managing Director of Arburg Italy. "After the summer break, it's the right time for players in the plastics industry to have a fresh start, look around and find ideas that can make them more competitive."
For the first time: Allrounder 470 H processes solid silicone
Arburg is launching a new generation of machines with the Allrounder 470 H, which not only combines an electric clamping unit and hydraulic injection unit, but significantly reduces acquisition and operating costs as well as the carbon footprint, the company claims. The machine presented in Milan will have a special configuration and will produce silicone parts from solid silicone for the first time. An ACH Turnmix feeder will be used as a peripheral device, while a linear robotic system Multilift Select 8 is depositing the parts on the conveyor belt.
Complex: Allrounder 570 A produces flip-top closures
A typical packaging application is shown with an electric Allrounder 570 A Comfort producing from PP from Exxon Mobil flip-top closures for bottles in the beauty care sector. Italian mould manufacturer Giurgola Stampi is responsible for the complex mould. The Gestica control system has various assistance functions such as "aXw Control CycleAssist"," aXw Control FillAssist". The process can be conveniently managed via OPC UA interfaces to hot runners and the cooling system. "Because we don't just produce parts, but have the entire process under control thanks to our software solutions, we can make life easier for our customers and help them minimise quality problems," says Raffaele Abbruzzetti, summarising the benefits.
Energy efficient: Injection compression moulding instead of thermoforming
The electric Allrounder 720 A Ultimate, an alternative to thermoforming, will be celebrating its Italian premiere at the show. The machine, complete with size 1300 injection unit, will be using injection compression moulding to produce environmentally friendly, thin-walled IML cups made from PP mono-material. A 4-cavity mould from Brink will be used to demonstrate the ICM process. For process monitoring, the mould is fitted with four compression path sensors. The plastic is biomass-balanced and ISCC-certified. Integrated into the production cell is a side-entry robot from Brink that inserts the labels, removes the finished cups and stacks them on a conveyor belt.
Cost efficient: Allrounder More produces 2C-parts
An innovative high-end solution shows how the use of a second mould and thus an additional assembly line can be eliminated: In a cycle time of around ten seconds, an Allrounder More 1600 produces four ready-to-use Luer connectors, and does so in a very confined space. The part weight of the PP component is 0.2 grams, while the soft TPE component weighs as little as 0.05 grams. The material was made from renewable or chemically recycled feedstock (ISCC Mass Balance). The 4+4-cavity mould features RotaricE2® technology from Braunform. Four servo-electric axes from Arburg's sister company AMKmotion, monitored via the Gestica control system, play a central role as they control the internal mould sequences for core-back, lifting the lid, capping the closures and unscrewing the Luer threads. Handling is performed by a Yaskawa six-axis robot, which also approaches a camera system for quality control.
Comparing: Allrounder 470 A on Sverital partner stand
The two cooperation partners are looking forward to comparing LSR processing on the Sverital stand with the use of solid silicone on the Arburg stand. While solid silicone will be processed on the Arburg stand, partner Sverital will be demonstrating liquid silicone
(LSR) injection moulding with an electric Allrounder 470 A and a special pump system. Thanks to the cooperation between Arburg's Italian team and Sverital, they are able to offer not only Arburg machines but also all the accessories needed to operate an injection moulding system of this type. Sverital also partners Arburg with its Drakkar brand when it comes to automation solutions.
Promising: With the 360-degree principle into the second half of the year
"We can be a 360-degree partner for our customers covering every single angle: from advice on preparing a project, selecting the right machine and after-sales customer service support to implementing turnkey projects with automation, training, and technological support. Then there are our digital products such as ALS and the arburgXworld customer portal with its extensive features for direct contact with Arburg," says Raffale Abbruzzetti, giving an overview of what will be on show at Plast in Milan 2023.
German family-owned company Arburg is one of the world's leading manufacturers of plastic processing machines. Its product portfolio encompasses Allrounder injection moulding machines with clamping forces of between 125 and 6,500 kN, the Freeformer for industrial additive manufacturing and robotic systems, customer and industry-specific turnkey solutions and further peripheral equipment. Arburg has its own organisations at 34 locations in 25 different countries and, together with its trading partners, is represented in more than 100 countries. Its machines are produced at the company's German headquarters in Lossburg. Of a total of roughly 3,600 employees, around 3,000 work in Germany. About 600 further employees work in Arburg's organisations around the world. Arburg has triple certification, in accordance with ISO 9001 (quality), ISO 14001 (environment) and ISO 50001 (energy).
Source: Arburg