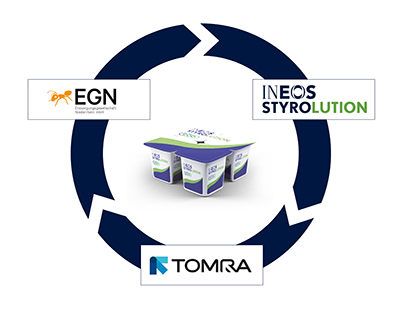 Process enables closed-loop circularity for polystyrene (PS) at food contact quality levels
First large-scale mechanical recycling facility to process recycled PS suitable for food packaging
Start-up expected by mid-2025
June, 12, 2023 – Ineos Styrolution, a global player in styrenics; Tomra, a developer of sorting solutions for waste; and EGN Entsorgungsgesellschaft Niederrhein, a leading recycling company, have announced a project to convert post-consumer polystyrene (PS) waste into recycled polystyrene for food packaging applications.
EGN, a subsidiary of the SWK AG, will build a green field mechanical recycling facility processing with a capacity to process 40kt of post-consumer polystyrene (PS) waste per year. It is expected to be the first large-scale facility of its kind. EGN will manage sorting and washing, while Ineos Styrolution will be responsible for the "super-cleaning" purification process to comply with the European Food Safety Authority (EFSA) requirements for food contact applications.
The new facility will be located in Krefeld, Germany. It is expected to start up in mid-2025, allowing Ineos Styrolution to start serving customers at commercial scale.
An agreement with Tomra to provide sorting technology and feedstock completes the project. Tomra Feedstock will collect post-consumer polystyrene waste from disposed food packaging and deliver it to the new site in Krefeld, Germany.
Pierre Vincent, Managing Director EGN says: "We share Ineos Styrolution's vision of closing the loop for food-contact quality polystyrene. I expect the dairy industry to especially benefit from this new offering by allowing them to mechanically recycle from yoghurt pot to yoghurt pot creating a true circular economy for this material."
Jürgen Priesters, Managing Director Tomra Feedstock, comments: "We are proud to contribute to this first commercial-scale polystyrene mechanical recycling facility for food contact applications. Polystyrene has the right composition to be recycled mechanically for food applications. The mission of Tomra Feedstock is to keep PS in true circularity."
Steve Harrington, CEO, Ineos Styrolution adds: "This is an exciting step forward for our industry. Our three companies bring complementary expertise to this project, and because of this unique collaboration, we will be able to provide customers high-performing circular polystyrene produced at a significantly lower carbon footprint. Already, we are seeing high interest from customers and brand owners to secure long term contracts."
Key facts about recycling of polystyrene
The advanced mechanical recycling process benefits from the inherent properties of polystyrene making it the material of choice for real circularity.
PS is proven to be one of the best sortable plastics in the waste stream and is one of only two polymers that can achieve food-contact qualities with mechanical recycling. The material offers infinite recyclability, retaining its property profile after many mechanical recycling cycles at virgin quality levels. Due to its properties, PS offers very low contamination uptake in the waste stream.
It is expected that a significant percentage of recycled food packaging material will be realised in a very short timeframe. Investment in commercial scaling of PS recycling will lead to a growing market share and a reduction in packaging taxes and licensing fees in countries where such frameworks are in place.
Ineos Styrolution has a portfolio of styrene monomer, polystyrene, ABS Standard and styrenic specialty products. Ineos Styrolution applications can be found in many everyday products across multiple industries: including automotive, electronics, household, construction, healthcare, packaging, and toys/sports. Operating 16 production sites in nine countries, the company is a wholly owned subsidiary of Ineos Group Limited and employs approximately 3,100 people. Sales were 6.6 billion euros in 2022.
EGN is a full-service waste management provider for waste collection, waste transport and recycling, thus active along parts of the waste management value chain. These services are provided to trade, industrial and private customers and municipalities. In 2022 EGN group sales were at 300 million euros with 1.100 EGN employers at 18 sites in Germany. SWK group is a national player in energy & waste management that 100% owned by the municipality of Krefeld. In 2022 sales were at 1.7 billion euros and SWK employs approximately 3400 people.
Tomra was founded on an innovation in 1972 that began with the design, manufacturing and sale of reverse vending machines (RVMs) for automated collection of used beverage containers. Today Tomra provides technology-led solutions that enable the circular economy with advanced collection and sorting systems. TOMRA has ~100,000 installations in over 80 markets worldwide and had total revenues of ~9.9 billion NOK in 2020. The Group employs ~4,300 globally and is publicly listed on the Oslo Stock Exchange
Source: Ineos Styrolution