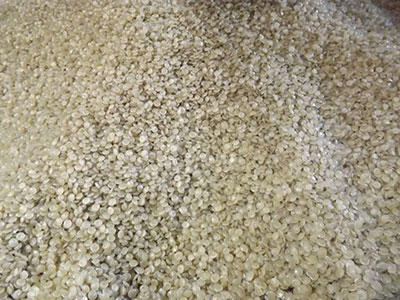 At K 2022, Plastiweber made a case for its recylates
November, 9, 2022 - Brazilian company Plastiweber presented its polyethylene resin solutions with high recycled content during K fair in Düsseldorf last October. The company´s goal at the exhibition was to promote its solutions, which have been timely developed in sync with the ongoing transition to Circular Economy. According to Plastiweber, the resin can be made up of as much as one hundred per cent recycled material.
The recycled plastic resins originates from a circular ecosystem that comprises more than 50 actors, such as cooperatives, environmental projects, brand owners and retail companies. All materials provided by the company's partners are processed, converted and upgraded, resulting in different types of linear low-density polyethylene (LLDPE) and low-density polyethylene (LDPE) resins. The company emphasizes the social and environmental benefits of its production, by reducing the impact of waste and also allowing for the possibility of multiple and successive recycling cycles after its use in new packaging applications.
Plastiweber believes that the participation at K 2022 positioned itself as a leader in the production of quality recyclates from waste materials. "Around the world, it is still a paradigm shift to take a package from waste and transform it into a new one having a high rate of recycled content. We wanted to present the benefits and the wide applicability of our resins, highlighting the expertise and the technology that Plastiweber has developed throughout the years. We also wish to stand for the relevance of plastics in the transition to a circular economy. It is crucial to consider not only the production of high-quality recycled packages, but also the need to bring even more companies together and to promote positive impact in our society", says Leandro Weber, Industrial Director of Plastiweber.
Plastiweber offers seven types of resins that can be used as a complement to produce recycled shrink wraps or virgin ones. In 2022, its packaging made out of 100% recycled content won the WorldStar Award, given by the World Packaging Organization in the category 'Packaging Materials and Components'. The company has also recently achieved the RecyClass certification for Recycling Processes, an European initiative that validates the pre- and post-consumer plastic value chain. With 25 years of experience, Plastiweber claims to be the first recycling company in the Americas to receive the European certificate EUCertPlast, which assesses the traceability and quality of recycled plastic materials.
Source: Plastiweber