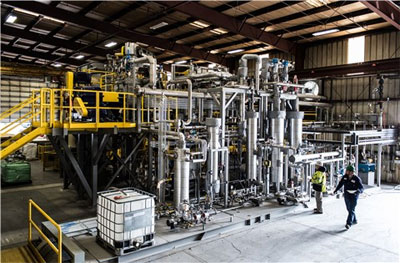 December, 16, 2020 - Agilyx Corporation, a wholly owned subsidiary of Agilyx AS, a pioneer in the advanced recycling of post-use plastics, and Braskemtoday announced the initiation of a feasibility study to explore the development and construction of an advanced plastics recycling project in North America.
The project aims to examine an efficient pathway to produce polypropylene (PP) using difficult-to-recycle mixed waste plastic, powered by Agilyx advanced recycling technology. Mixed waste plastics for this project would be sourced through Agilyx's feedstock management company, Cyclyx International, Inc. In addition, this project is targeting circular PP with the necessary properties for demanding customer applications such as food packaging, consumer, and hygiene products.
Mark Nikolich, CEO of Braskem America, stated, "As the North American leader in polypropylene, Braskem is committed to evolving its feedstock portfolio to leverage more sustainable input sources and is currently evaluating various supply agreements and innovative projects to drive this shift. Our collaboration with Agilyx is just the most recent example of Braskem's efforts to more holistically address the limited availability of propylene feedstock derived from post-use plastic in the market today. Looking forward, Braskem intends to explore direct investment options as needed to help accelerate this transition to more circular and sustainable feedstock and production technologies."
"We are pleased to partner with Braskem to advance this project forward and to expand the market for post-use recycled plastic," said Tim Stedman, CEO of Agilyx. "Agilyx has a proven technology leadership and track record in converting hard-to-recycle plastic. This collaboration targets a new product pathway for Agilyx, converting mixed waste plastic into the chemical building blocks used to produce polypropylene."
Agilyx is a pioneer in the advanced recycling of difficult-to-recycle post-use plastic streams. Agilyx says that with its chemical recycling technology and feedstock management system, mixed plastic waste can be converted to new virgin-equivalent plastics, as well as chemical products and fuels - creating the opportunity for true circularity. The company is working with many waste service providers, municipalities, petrochemical, and brand and retail companies to develop closed-loop advance recycling solutions for mixed waste plastics.
Source: Braskem