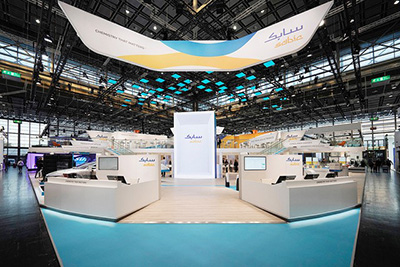 Advanced materials and value chain collaborations in industries from packaging, consumer goods and hygiene & healthcare to electrical & electronics, transportation and building & construction
Portfolio of solutions aligns with SABIC's Trucircle program for accelerating the change towards circularity and with the company's Bluehero ecosystem to support the world's shift to more sustainable electric power

November, 05, 2022 - SABIC, a global leader in the chemical industry, demonstrated at K 2022 in Düsseldorf how advanced polymer chemistry is making a distinct difference across industries, especially as OEMs, brand owners and converters strive to reduce their climate impact. Under the theme of 'Making the change real', the company's solutions on display emphasized two key areas: accelerating the implementation of a circular plastics economy, and creating a clean-air economy by driving the transition to product electrification.
"Sustainability is part of our DNA and firmly rooted in all our activities," says Sami Al-Osaimi, Acting EVP Petrochemicals at SABIC. "This connects closely to this year's major show topics of Circular Economy and Climate Protection. Based on a broad portfolio of innovative material solutions and through dedicated value chain collaborations with leading partners from multiple industries, we have made significant progress over the past three years on our journey towards greater sustainability and circularity. In doing so, we have focused on helping our customers meet their strategic priorities while also striving to contribute to the resolution of pressing global challenges."
SABIC's presence at K 2022 was punctuated by two strategic initiatives: Trucircle, designed to accelerate the change towards circularity with design for recyclability, certified circular, renewable and mechanically recycled products, and closed-loop solutions – all targeted at reducing waste, carbon emissions and fossil depletion. And Bluehero, an expanding ecosystem of materials, solutions and expertise to support the world's energy transition to sustainable electric power, with its initial focus on vehicle electrification.
At SABIC's booth, the results of these initiatives, material developments and collaborations were illustrated by a broad range of advanced solutions in six industry segments:
Advanced Packaging
SABIC's portfolio of materials and technologies to help the packaging value chain increase sustainability and reduce waste without compromising food safety or product performance is focused on five areas:
Reduce waste: innovative solutions designed to minimize waste and enable 100% recyclability and light weighting
Certified circular solutions: high-quality polymers with ISCC PLUS mass-balance accredited feedstock content from thermo-chemically processed, hard-to-recycle post-consumer mixed plastics
Closed-loop collaborations & recycling of ocean plastic: value chain partnership projects to maximize the circularity of valuable used plastics within application segments and to reclaim the value of both ocean bound and ocean plastic
Certified renewable solutions: use of materials with ISCC PLUS mass-balance accredited bio-based feedstock content that are not in direct competition with the human food chain and help reduce potential effects of climate change
Consumer appeal & functionality: differentiated, durable applications with lighter, recyclable design and enhanced shelf appearance as well as greater functionality
An example of closed-loop collaboration success in the flexible packaging is with Mars for KIND healthy snack bar wrapper manufactured from flexible BOPP film with using certified circular SABIC PP for food contact. SABIC says the sustainable mono-material packaging solution facilitates end-of-life recycling in existing collection and conversion operations without compromising high-speed processing or product quality.
Another close collaboration of SABIC with Covestro, a new fully recyclable stand-up pouch made with SABIC BOPE material and including Covestro's heat-resistant coating resin technology. The company says in this transparent coating, currently in trial phase, the solution has been tested and validated, offering a broader sealing temperature window when processing on form fill and seal (FFS) lines for flexible packaging as it prevents both, film shrinkage and film sticking to heat seal bars during FFS. The new PE based high-performance, recyclable; mono-material stand-up pouch supports the drive to achieve a circular economy for flexible packaging, as it is a viable solution to replace PET or PA laminates in incumbent solutions.
Electrical & Electronics
SABIC says it addresses the challenges of the electrical and electronics (E&E) industry with one of the broadest portfolios of advanced material and technology solutions combining sustainability with durability and aesthetical properties.
The company has identified four key areas:
Energy distribution: components using the a wide range of engineering thermoplastics with the required high property profile for the reliable transport of wind and solar power through the energy grid
EV charging infrastructure: innovative engineering thermoplastic solutions designed to help optimize batteries and chargers for electric vehicles (EVs) by reducing weight and providing greater design freedom
Telecommunications: high-performance polymers for electronic devices such as fast Wi-Fi routers and 5G network infrastructure applications
Lighting: engineering thermoplastics for light-emitting diodes that can deliver more energy efficient illumination and longer life than conventional light sources
Spearheading the exhibits in this segment is a high-voltage electro-voltaic connector that leverages the excellent electrical properties of SABIC's Valor PBT resin and the polymer's customized colorability, including signal orange, which is an essential requirement in this market segment.
Hygiene & Healthcare
In a global market with an increasingly elderly and empowered population, SABIC says it meets customers' need with innovative, sustainable, efficient, and reliable solutions that meet the stringent requirements of the industry with a vision to deliver enhanced safety, sustainability and comfort:
Patient care: a vital area in need for portable technologies and effective solutions to reduce health-care-associated infections and meet regulatory demands
Diagnosis: SABIC says its solutions provide clarity, durability and chemical resistance for high-quality and shatter-resistant products in diagnostics, such as blood collection tubes, measuring cups and syringes
Prevention: Purecares solutions, including certified renewable grades, help produce safe and pure materials for advanced functionality and softness in nonwovens and hygiene applications, SABIC claims
Self-medication: a growing application area that requires advanced materials for miniaturization, reliable drug delivery and convenient packaging
Also featured at K 2022 was opaque Lexan Cliniwall sheet from SABIC's Functional Forms business for hygienic wall claddings in healthcare facilities. The durable sheet materials offers high fire safety, impact strength and scratch resistance as well as resistance to hospital cleaners, disinfectants, blood and urine stain, and is also available in grades with anti-bacterial additives.
Consumer Goods
A growing global population and rapidly increasing middle class are driving the expansion of the consumer goods industry. Manufacturers are continuously striving to create sustainable solutions that are light, durable and recyclable, reducing environmental footprint of the application while offering aesthetics and functionality to set their brands apart in this very competitive market:
Reduce waste: innovative solutions designed to maximize re-usability, light weighting and make a significant contribution to waste reduction and recyclability
Circular solutions: high-quality polymers with certified feedstock content from advanced non-mechanical recycling of post-consumer plastics
Certified renewable solutions: high-quality polymer materials with certified renewable feedstock content that are compliant with food or cosmetic industry safety standards and help reduce potential effects of climate change
Consumer appeal & functionality: differentiated, durable applications with lighter, re-usable design and enhanced shelf appearance as well as greater functionality
To underscore the importance of value chain partnerships in this market segment, SABIC was showing Mattel's new MEGA and Matchbox toys using certified renewable PP polymers, where MEGA BLOKS Green Town is the first-ever toy line available at mass retail to be certified carbon-neutral.
A close to 100% renewable application on display was Mysoda's sparkling water machine made with UPM Formi EcoAce bio-composite which contains certified wood and certified renewable PP polymer from SABIC's Trucircle portfolio, that are linked to wood based feedstock from UPM Biofuels production.
Transportation
SABIC says its materials, solutions and expertise can potentially help pave the way towards more sustainable transportation and a lower-carbon future. Among the more prominent highlights within this space of the company's booth was the Lucid Air, the 2022 MotorTrend Car of the Year from Lucid Motors. The car features more than 25 applications in SABIC materials, including a flame retardant Lexan resin, a polycarbonate material, which meets numerous requirements for the car's in-house designed, patented and prized battery module housing.
Additional automotive and transportation solution areas featured include:
EV battery packs: a mix of on-the-road parts, prototypes and other exhibits highlight how flame retardant, high-temperature structural thermoplastic materials under SABIC's Bluehero initiative can help optimize EV battery packs for weight and cost savings, improved energy efficiency, enhanced safety and lower environmental impact
Automotive smart panels & lighting: a solutions station with meaningful samples showed how SABIC materials deliver the design freedom to create unique shapes and styling, transparency for light and signal transmission, impact and high temperature performance, weatherability/UV stability and high-quality aesthetics
Automotive structures & trim: multiple display parts, including a tailgate made with recycled content, highlight how SABIC can support lightweighting without compromising strength properties, improved aesthetics for visible parts
Vehicle glazing: motorcycle and helicopter glazing samples with SABIC materials demonstrate the potential for weight savings and advanced styling vs use of glass.
Building & Construction
With an increasingly urbanized world population, there is a growing demand for more sustainable, innovative and high-quality B&C solutions. SABIC's exhibit at the show targeted four areas and included a large-screen Explorer providing a virtual building environment that showcased various different sheet applications in greater detail:
Energy: solutions designed to help combat increasing energy costs and reduce energy consumption in buildings through insulation or increased use of renewable energy sources
Pipe solutions: above ground or below, SABIC offers material solutions that are more sustainable by increasing the performance and lifetime of pipes used in infrastructure, industrial, domestic and agricultural markets
Structural glazing: Lexan solid and multiwall sheet solutions that can help architects, builders and contractors implement aesthetic, energy efficient, high-impact and cost-effective glazing concepts from urban infrastructure to stadium roofs
Solid building materials & systems: products such as solid transparent Lexan Extrite sheet with natural light diffusion for rugged outdoor applications, such as bus shelters, and opaque Lexan Cliniwall sheet for hygienic wall claddings in healthcare facilities, which combines high fire safety with durable aesthetics and resistance to hospital cleaners, disinfectants and stains
SABIC claims that a real breakthrough in B&C is its new biaxial pipe technology developed with partners, offering up to 30% of material savings over incumbent polyolefin pipes and superior resistance to slow-crack growth, which facilitates cost-efficient trenchless installation across geographic landscapes.
Source: SABIC