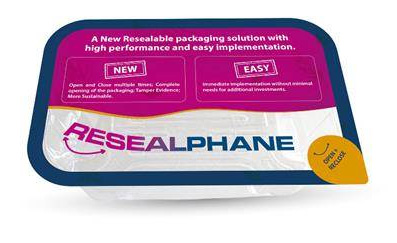 During the International Dairy Deli Bakery Association show (June 4th-6th), in Anaheim, California, Terphane focused on Sealphane and Ecophane solutions.
June, 5, 2023 – Terphane, a manufacturer of BOPET films (polyester), presented its full line of solutions in polyester (PET) films at the International Dairy Deli Bakery Association (IDDBA) Show 2023 in Anaheim, California. The show is one of the most important in the United States for the dairy, deli, bakery, and food service industries, with over 10,000 attendees and more than eight hundred exhibiting companies.
Terphane offers solutions for those industries with a complete BOPET line: transparent, metallized, and coating films, as well as Sealphane and Ecophane product lines which were displayed at IDDBA 2023. The Sealphane heat sealable line's latest innovation is Resealphane, a resealable film which is easy to process and integrate into existing packaging lines, the company claims. This new film can be opened and reclosed multiple times, is tamper evident, and uses less plastic when compared to other solutions, Terphane says.
"We are excited to present Resealphane technology, which offers all packaging converters and brand owners the opportunity to migrate from a conventional lidding packaging structure, such as lock seal or easy open, to a high-performance resealable solution without the need for additional investments. This innovation opens up opportunities for baked goods, deli meats and cheeses, and other packaged products that would benefit from a resealable lidding solution", stated Raymond Joyner, Sales Manager of Terphane.
The Ecophane line offers post-consumer recycling (PCR) and biodegradable (BIO) content. The PCR film can have up to 35% recyclable content and the BIO film degrades in landfill conditions. Both films are approved for food contact by FDA (USA), the company says
Since its founding in 1976, Terphane has been developing technologies and processes to produce specialty bioriented polyester films (BOPET). With experience in film production, coating, and metallization, the company is vertically integrated, from resin to specialty films. Terphane is a subsidiary of U.S.-based Tredegar Corporation
Source: Terphane