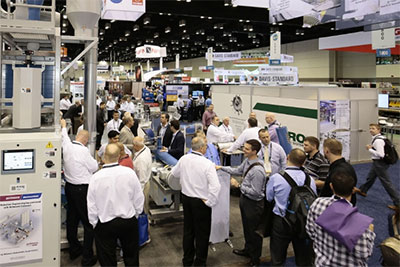 NPE2024, The Largest Plastics Trade Show in the Americas, Will Bring Industry Leaders from Around the World to Orlando, Florida, in May 2024
May, 26, 2023 – The Plastics Industry Association (PLASTICS) announced today that exhibit space at NPE2024: The Plastics Show, the global platform for innovation in plastics, has completely sold out. With more than 1.1 million net square feet of exhibit space, this is a significant achievement 12 months ahead of the triennial trade show. NPE previously surpassed the NPE2018 exhibit sales record in March at the NPE2024 Space Draw.
"More than 2,000 exhibitors will participate in NPE2024: The Plastics Show in Orlando. Continued exhibitor enthusiasm reflects NPE's importance to the global plastics industry," said Matt Seaholm, President and CEO of PLASTICS. "We are excited to showcase the latest advancements in plastic materials, manufacturing, recycling and processing – including innovations from more than 180 first-time NPE exhibitors."
"NPE is more than a trade show; it is a hands-on experience. It's where professionals across every industry gather to witness leading-edge plastics innovation and technology while advancing their business, building partnerships, and unlocking new opportunities to build a more sustainable economy," stated Glenn Anderson, COO of PLASTICS. Exhibitors from 34 countries, including India, Italy, Germany and Japan, will be at the highly anticipated global trade show.
With more than 55,000 attendees expected, NPE2024 will be the largest plastics event in the Western Hemisphere promising a unique "Made for You" experience that surpasses previous NPE events. Registration will open on Tuesday, September 12, 2023.
The latest advancements in products and services will be highlighted in six sold-out technology zones, including an Advanced Manufacturing Zone, Bottle Zone, Materials Science Zone, Moldmaking Zone, Recycling & Sustainability Zone and Packaging Zone.
"With an end goal of diverting 100% of the recyclable plastic waste generated during the event, sustainability is not just a category at NPE2024," stated Annina Donaldson, Chair of the NPE2024 Sales and Marketing Committee. "Sustainability is a commitment incorporated into every detail."
"The onsite NPE recycling center will do more than reduce waste inside the Orange County Convention Center – this dual-purpose space will serve as a live, interactive display for attendees to learn about the latest recycling techniques. Exhibitors will also be offered end-of-show recycling and donation opportunities for materials they don't want to ship back home to reduce our carbon footprint," Donaldson added.
Companies interested in exhibiting at NPE2024 can visit NPE.org/Exhibit to add their name to the growing exhibitor waitlist. Should space become available, prospective exhibitors will be contacted in the order received.
For more information about NPE2024: The Plastics Show, visit: NPE.org. Connect with NPE2024 through Twitter, Instagram and LinkedIn for the latest #NPE2024 news and insights.
The Plastics Industry Association (PLASTICS) is the only organization that supports the entire plastics supply chain, including Equipment Suppliers, Material Suppliers, Processors and Recyclers, representing over one million workers in this $468 billion U.S. industry. PLASTICS advances the priorities of its members who are dedicated to investing in technologies that improve capabilities and advances in recycling and sustainability and providing essential products that allow for the protection and safety of our lives. Since 1937, PLASTICS has been working to make its members, and the sixth largest U.S. manufacturing industry, more globally competitive while supporting circularity through educational initiatives, industry-leading insights and events, convening opportunities and policy advocacy, including the largest plastics trade show in the Americas, NPE2024: The Plastics Show.
Source: Plastics Industry Association