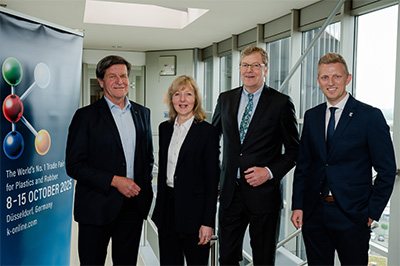 From left: Ulrich Reifenhäuser (Chairman of the K 2025 Exhibitors' Council), Petra Cullmann (Executive Director Messe Düsseldorf), Erhard Wienkamp (Managing Director Messe Düsseldorf), Thomas Franken ( Project Director Messe Düsseldorf)
May, 16, 2023 – The first meeting of the Exhibitors' Council is also the kick-off meeting for K 2025, which will take place from 8 until 15 October, 2025 in Düsseldorf. The panel of experts assembled to discuss the plans concerning the most important fair for the international plastics and rubber industry. The Exhibitors' Council assists Messe Düsseldorf with its preparations in the run-up to K 2025 and provides consultancy on basic conceptual and organisatorial matters. Comprised of representatives from exhibiting industrial segments and from important industrial associations, the council covers the entire range of products and services presented at K 2025 – machine and plant engineering, plastics and rubber raw material and auxiliary production as well as the production of semi-finished products and industrial components made from plastics and rubber.
Ulrich Reifenhäuser, Chairman of the Management Board of the Reifenhäuser Group and Chairman of the VDMA plastics and rubber machinery association, will retain his position as Chairman of the Exhibitors' Council. Thorsten Kühmann, Director of the VDMA plastics and rubber machinery association, will retain his position as head of the communication committee.
The Exhibitors' Council K 2025 Düsseldorf is comprised of the following other members:
Marc Gregor Baier
BBP Kunststoffwerk
Marbach Baier GmbH
Ingemar Bühler
PlasticsEurope Deutschland e.V.
Siamak Djafarian
Röhm GmbH
Boris Engelhardt
wdk - Wirtschaftsverband der deutschen Kautschukindustrie e.V.
Dr. Stefan Engleder
ENGEL AUSTRIA GmbH
Dr. Guiscard Glück
BASF SE
Manfred Hackl
EREMA Engineering Recycling
Dr. Christian Haessler
COVESTRO Deutschland AG
Juliane Hehl
Arburg GmbH & Co. KG
Matthias Lesch
Pöppelmann GmbH & Co. KG
Gerd Liebig
Sumitomo Demag
Dr. Oliver Möllenstädt
GKV Gesamtverband Kunststoffverarbeitende Industrie e.V.
Eric Schönel
SIMONA AG
Peter Steinbeck
Windmöller & Hölscher KG
Dr. Axel Tuchlenski
Envalior
Dr. Axel von Wiedersperg
Brückner Group SE
Michael Wittmann
Wittmann Technology GmbH
Every three years companies from throughout the world present the latest technological developments, current solutions and visionary approaches at K in Düsseldorf. Highlighting impressive innovations and forward-looking impulses for climate protection, the circular economy and digitalisation, K in October met the high expectations last year. More than 3,000 exhibiting companies from 59 countries and to the tune of 177,500 trade visitors from 169 nations gathered at K 2022.
As in previous years, the most important international suppliers and service providers of the plastics and rubber industry will exhibit at the K 2025. Over the next few months, the organisers will define the main topics of the upcoming flagship fair. Application documents will be sent to exhibitors at the beginning of 2024.
Source: Messe Düsseldorf