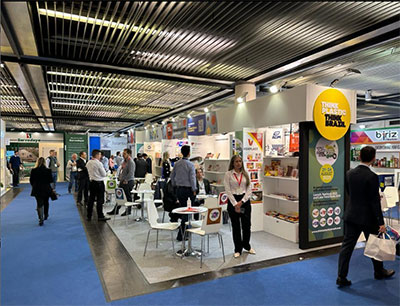 Think Plastic Brazil brought together 20 companies in the Brazilian pavilion with products focusing on sectors such as cosmetics, pets, food, and others
May, 10, 2023 –. The Brazilian packaging sector is one of the main segments exploring international markets within the Brazilian plastics converting industry. The Think Plastic Brazil project comprises a portfolio of solutions that support the plastics conversion sector in its internationalization process aimed at target markets abroad. The project was created by INP (The Brazilian Plastics Institute) in partnership with ApexBrasil (Brazilian Trade and Investment Promotion Agency). Brazilian packaging products were presented to the international public during the main global packaging exhibition, Interpack 2023, which took place in Düsseldorf, Germany, from May 4 to 10. The Brazilian pavilion was located at Hall 7.1, Booth D07.
The following companies were exhibiting at interpack: Canguru, Electro Plastic, Embaquim, GDM, Geraldiscos – Tekniplex, Impacta, Packing Group, Parnaplast, Plásticos Novel, Plaszom, Sommaplast, Soroplast, Splack S.A., Terphane, Valgroup, Videplast (which will be present with two group companies), Wyda, and Zaraplast.
About Think Plastic Brazil
Think Plastic Brazil was created in December 2003. The project is carried out in collaboration with ApexBrasil (Brazilian Trade and Investment Promotion Agency) and under the coordination of the Brazilian Plastics Institute (INP), to promote the export of converted plastic products.
About Apex Brazil
The Brazilian Trade and Investment Promotion Agency (ApexBrasil) works to promote Brazilian products and services abroad and attract foreign investment to strategic sectors of the Brazilian economy. To achieve its goals, ApexBrasil carries out diversified trade promotion actions aimed at promoting exports and valuing Brazilian products and services abroad, such as prospective and trade missions, business roundtables, support for the participation of Brazilian companies in major international trade shows and visits by foreign buyers and opinion makers to learn more about the Brazilian production structure, among other business platforms that also aim to strengthen the Brazil brand.
Source: Think Plastic Brazil; Photo: Think Plastic Brazil´s Instagram