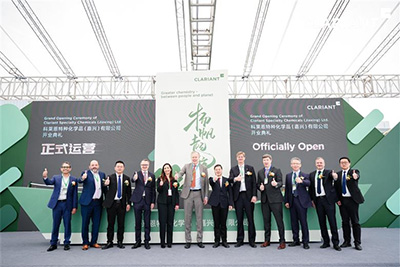 Clariant announced the grand opening of its new high-tech production facility for its Catofin propane dehydrogenation (PDH) catalyst
The production facility in Jiaxing, Zhejiang Province, China represents an investment of CHF 80 million and was completed within 18 months
The plant positions Clariant to drive forward innovation and customer proximity while ensuring a continued expansion of its global footprint
April, 28, 2023 –. Clariant announced on April, 12 the grand opening of its new Catofin catalyst production site in Jiaxing, Zhejiang Province, China. The site serves to increase the already expanding footprint in China, adding on to the existing nearby catalyst plants in Jinshan and catalyst R&D center within the One Clariant Campus in Shanghai.
"This investment is part of our strategy to strengthen our regional footprint and increase the share of local production in China with leading catalysts technology in a strongly growing segment," said Jens Cuntze, President of Clariant Catalysts & Asia Pacific.
Catofin is a catalyst for propane dehydrogenation (PDH), which is used in the production of olefins such as propylene. According to Clariant, Catofin delivers superior annual production output, resulting in increased overall profitability for propylene producers. Additionally, Clariant developed a specialty material called Heat Generating Material (HGM), which reduces the energy consumption of the Catofin technology by up to one-third, further highlighting the advantages of this catalyst solution, the manufacturer claims.
"The successful completion of the Catofin plant pushes us forward on our growth trajectory. It offers significantly more production capacity for the popular, high-value catalyst in a market that's seeing rapidly increasing demand. The increased production capabilities of the plant ideally position us to meet the demands of the region while simultaneously ensuring more proximity to a strategically important customer base," said Jace Wang, Head of Propylene at Clariant Catalysts.
Representing an investment of CHF 80 million, the site was completed within only 18 months from ground-breaking in September 2020, becoming fully operational last year. It is a state-of-the-art plant with digitalized operations.
Source: Clariant