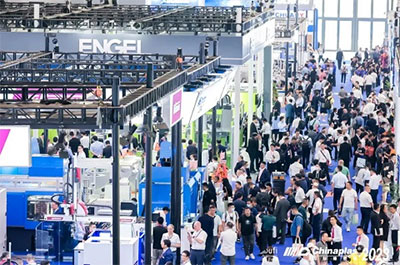 April, 28, 2023 –. Chinaplas 2023 drew down its curtain on April,20 in Shenzhen, China, with a record-breaking total number of visitors.
According to the organizer, 248,222 visitors went to Shenzhen World Exhibition & Convention Center during the four-day exhibition, exploring the latest innovative hi-tech plastics and rubber solutions.
The total number. of visitors for Chinaplas 2023 represents an increase of 63.16% when compared with Chinaplas held in the same venue at 2021. When compared with the exhibition held in Guangzhou at 2019, it marks an increase of 51.99%.
It is also noteworthy that the second show day recorded a number of 96,809 visitors, which is the highest for a single Chinaplas show day.
The organizer, Adsale Exhibition Services Ltd., said over 3,800 machine exhibits and more than 1,400 material suppliers were displayed at the exhibition.
In particular, the exhibition boasted more than 240 technology debuts, many of them are innovative high-technologies developed locally in China.
One of the highlights of this year's exhibition was the abundant high-technologies showcased, including advanced molding technologies, new materials, and low-carbon and circular technologies.
Innovative and high-tech molding refers to advanced processing for injection molding, extrusion, blow molding, thermoforming, and so on. These technologies feature energy and resource saving, highly integrated systems, and smart manufacturing functions for remote monitoring. In line with sustainable development, they can also process recycled and bio-based materials.
New high-tech materials are more sustainable and perform better than conventional plastics, and therefore, many of them are suitable for the new energy sectors. For instance, high performance and sustainable flame retardant solutions are applied in electric vehicles, and solar cells are made of superior tie-layer materials. Besides, long fiber reinforced thermoplastics are drawing attention in many high-end application fields.
Low-carbon and circular technologies are for the production of bio-based and recycled plastics, whose properties and applications are similar to that of fossil-based materials, as well as optimized recycling technologies.
Chinaplas once again showed itself to be a high-quality platform for presenting cutting-edge technologies and sourcing new solutions for the plastics and rubber industries.
Source: Adsale