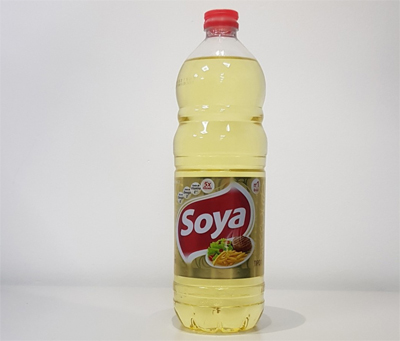 November 6, 2020 - Amcor has adapted its engineering and design technology to develop the lightest 900-ml polyethylene terephthalate (PET) bottle for edible oil in Brazil, the company claims. The custom- designed container for agribusiness and food producer Bunge, in São Paulo, is 22% lighter than competitive bottles while providing greater productivity and increased sustainability benefits.
The new bottle for Bunge's Oleo de soja Soya brand represents Amcor's entry into the edible oil market in Brazil. Amcor responded to Bunge's industry-wide challenge to suppliers, developing a 14g container which weighs four grams less than standard bottles.
"This new bottle is a huge technological achievement because we were able to replicate the current bottle's shape and specifications but at a lighter weight," said Ivan Assenco, Amcor's R&D process coordinator. "During a highly focused three-year development project, we leveraged our expertise in R&D, design, and engineering to create a one-of-a-kind bottle for edible oil."
Lightweighting is an important differentiator in the edible oil market
Amcor says it developed a new lightweight preform which maintained the same shape while optimizing topload strength, wall thickness, material distribution, and stacking strength. The container required a high stretch ratio so the team conducted a finite element analysis (FEA) study to optimize the design and meet wall thickness requirements. For the consumer, the redesign also maintains the same look, feel, and handling experience.
"At Bunge, we are always looking for possibilities to improve our performance at all operational levels of the Company and at the same time reduce our impact on the environment," said Paulo Silvério, director of procurement for Bunge in Brazil. "In this project, we had many challenges, from designing a bottle with less plastic to introducing new filling technologies in our plants, but the result was excellent." Silvério added: "Amcor responded to the challenge with a unique bottle that gives us a distinct advantage in the market."
Amcor claims the lightweight container delivers sustainability benefits by reducing raw material usage by about 4.4 tons of material per year. As a result, Bunge improved its manufacturing efficiencies and reduced transportation costs.
PET, which has rapidly become the world's preferred packaging material, is lightweight, shatterproof, recloseable, resealable, reusable and recyclable. In addition, PET bottles often have the lowest carbon footprint and their production results in up to 70% less greenhouse gas emissions than other packaging materials, according to Amcor's Asset Lifecycle Analysis. In the midst of today's hygiene concerns, capped and sealed PET bottles keep beverages protected from pathogens like viruses and bacteria. They are also sealed to combat contamination and re-sealable for ongoing protection.
As demand grows for edible oil products, Amcor expects the lightweight container to be translatable to other similar applications in Latin America. As more consumers cooked at home during the COVID-19 outbreak, Amcor helped Bunge meet the surge in demand for its edible oil products.
Bunge is a world leader in sourcing, processing and supplying oilseed and grain products and ingredients. Founded in 1818, the company is headquartered in St. Louis, Mo. and has almost 25,000 employees worldwide who stand behind more than 350 port terminals, oilseed processing plants, grain facilities, and food and ingredient production and packaging facilities around the world.
Amcor is a global leader in developing and producing packaging for food, beverage, pharmaceutical, medical, home- and personal-care, and other products. Amcor works with leading companies around the world to protect their products through a range of flexible and rigid packaging, specialty cartons, closures, and services. The company is focused on making packaging that is increasingly light-weighted, recyclable and reusable, and made using an increasing amount of recycled content. Around 47,000 Amcor people generate US$12.5 billion in sales from operations that span about 230 locations in 40-plus countries.
Source: Amcor