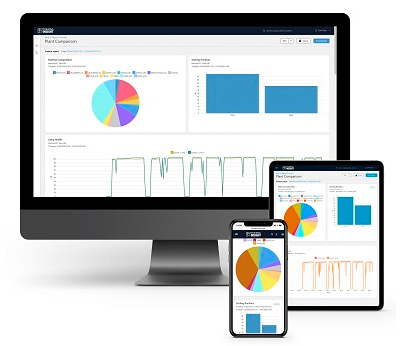 Further development has enhanced the cloud-based platform's ability to unlock the power of big data; web-based portal allows easy accessibility.
October 20 2020 - Tomra Insight, the cloud-based data platform which enables Sorting machine users to improve operational efficiencies, is being rolled out to more industries.
Following its successful launch last year by Tomra Sorting Recycling, Tomra Insight is now also being made available to customers of Tomra Mining and Tomra Food, and for all three of these industries, the platform is enhanced by new features and functionalities. This makes Tomra Insight even more capable now than it was when successfully launched to recyclers in March 2019.
Tomra Insight is a subscription-based service that turns Sorting machines into connected devices that generate valuable process data. This data is gathered in near real-time, stored securely in the cloud, and can be accessed from anywhere and across plants via a web portal available for desktop and mobile devices.

Felix Flemming, Vice President and Head of Digital at Tomra Sorting, commented: "By capturing and using valuable data, Tomra Insight is transforming Sorting from an operational process into a strategic management tool. This tool is constantly becoming more powerful as we are continuously developing it in response to customers' needs and priorities. New functionalities and features are released every three weeks – a routine during which Tomra works closely with customers in pursuit of shared objectives."
Data captured by Tomra Insight provides valuable performance metrics that help businesses optimize machine performance. Operating costs are reduced by simplifying spare part ordering and flexible access to data and documentation. Downtime is reduced by monitoring machine health and performance in near real-time, identifying gaps in production and analyzing potential root causes, by supporting the management moving to predictive and condition-based maintenance, and by preventing unscheduled machine shutdowns. Throughput is maximized by evaluating variations and optimizing Sorting equipment accordingly. And Sorting to target quality is enhanced by having accurate material composition data which enables decisions to be based on more detailed information.
Recyclers are making valuable efficiency improvements
For Recycling businesses, the Tomra Insight data platform can be connected with Tomra's color, laser, near-infrared, and x-ray transmission Sorting machines. Obtaining detailed data from these machines is helping recyclers improve operating efficiencies and profitability. Since the launch 18 months ago, Tomra Insight has been enhanced with the addition of more user-friendly features and broader capabilities.
Recyclers can consult live and historical data before making decisions affecting their production process. Through the continuous monitoring of the product composition, operators can adjust machine settings promptly and optimally in response to changes on the line in material composition. Additionally, deep-dive data enables managers to make operational and business decisions based on more complete information. Accurate comparisons can now be made between plants, shifts, and material batches. Because the data is stored securely in the cloud, it is also possible to remotely monitor plants in near real-time – especially useful since the imposition of COVID-19-related physical distancing rules and travel restrictions.
One of the first users of Tomra Insight was Wellman International, one of the world's largest manufacturers and recyclers of PET. Wellman's processing plant in the Netherlands, which has an annual PET flake processing capacity of 42,000 tonnes, has connected Tomra Insight to six sorters: five Autosort machines, which pre-sort PET bottles, and one Autosort FLAKE, which purify the flakes after washing with a focus on Sorting-out PVC flakes.
Jorrit Beetsma, Process Technician at Wellman International, commented: "As well as the quality of the data, we also like the user-friendliness of Tomra Insight. Before, we could only extract data by physically going to a machine's screen, and it wasn't always easy transferring that data to a computer. Now it's easy to consult the data remotely from our office. Another big difference is that we were previously using data to help with maintenance and servicing matters, but now the data also helps to analyze input materials and improve Sorting efficiency. Tomra's machines are the only ones that can do this."
Johannes Jacoby, Product Manager Digital at Tomra Sorting Recycling, said: "Wellman sought Tomra Insight to bring more transparency to their Sorting activities. On one end, they wanted a better understanding of what events were causing machine stops, to reduce downtime. In addition to this, they expected a more detailed analysis of material loss during the recovery process, to precisely assess the quality of bought-in materials and to optimize the Recycling process. Tomra Insight has helped significantly with these objectives."
Tomra's engineers help customers analyze key data every month as part of the Tomra Insight subscription service. Furthermore, Tomra works closely with Recycling operations to continuously develop the data platform as part of the subscription service.
Recent additions to Tomra Insight have given access to additional statistics such as product composition, material distribution over time, and the ability to connect more machines. Enhancements have also included a new dashboard page with an overview of the customer's connected machines, spare parts orders, and service activities; an events and alarms table which allows users to search further back in time; a convenient way of exporting data to Excel or PDF files; and the possibility to request price quotations for spare parts.
The number of Recycling plants using Tomra Insight has tripled in the last year, and more are expected to subscribe to the service as they learn of its benefits. Recyclers are invited to request a risk-free trial of Tomra Insight by contacting their regional sales manager or the team directly through http://insight.Tomra.com.
Tomra Sorting Recycling designs and manufactures sensor-based Sorting technologies for the global Recycling and waste management industry. Over 6,000 systems have been installed in more than 100 countries worldwide.
Responsible for developing the world's first high capacity Near Infrared (NIR) sensor for waste Sorting applications, Tomra Sorting Recycling remains an industry pioneer with a dedication to extracting high purity fractions from waste streams that maximize both yield and profits. Tomra Sorting Recycling is part of Tomra Sorting Solutions which also develops sensor-based systems for Sorting, peeling, and process analytics for the food, mining, and other industries. Tomra Sorting is owned by Norwegian company Tomra Systems ASA, which is listed on the Oslo Stock Exchange. Founded in 1972, Tomra Systems ASA has a turnover of around €885m and employs ~4,500 globally.
Source: Tomra