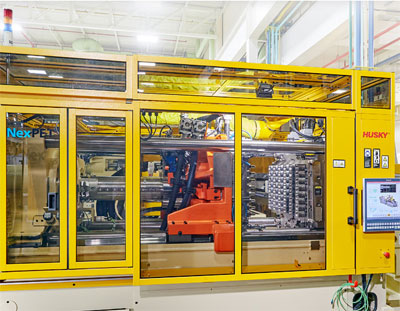 Company says that the flexible mid-volume system is built to quickly and easily produce just the right output for multiple preform designs
November 5, 2020 – Husky Injection Molding Systems, a leading technology provider to the plastics processing industry, has launched its new NexPET system – a mid-volume PET preform molding solution purpose-built to help producers introduce multiple new applications into the market more quickly and cost-effectively than ever before, the company claims..
Husky says the NexPET system is engineered to enable both established and emerging producers be more competitive by better responding to evolving consumer preferences – while achieving high levels of value, flexibility, reliability and sustainability. The company claims that for established producers, NexPET delivers an agile, reliable solution to accommodate niche brands or smaller run SKUs. For emerging producers, it is a cost-effective solution that enables fast, low-risk entry into markets.
"Consumers are increasingly demanding more personalized products catered to their unique lifestyles and tastes. The global climate created by COVID-19 has amplified this trend, forcing many producers to rapidly adapt operations to scale up new applications like hand sanitizer, disinfectant and other health, personal care or cleaning related products," said Robert Domodossola, Husky's President of Rigid Packaging. "Taking into consideration feedback from our customers, as well as assessing the current market landscape, we saw the need for a more flexible, adaptable PET preform molding solution. As we present NexPET to the market I look forward to continuing the conversation with our customers to gain an even better understanding of what solutions they need to remain successful and competitive – even during these unprecedented times."
Husky's NexPET system supports a wider variety of applications, more SKUs, shorter production runs and more frequent design changeovers. The company says the system's flexible design is ideally suited to meet continuously changing production requirements, while maintaining the highest Six-Sigma part quality. NexPET can run up to a 48-cavity mold. Husky claims that the system is equipped with a number of unique features to enable producers to be more productive and adaptable, including:
Up to 25 percent faster mold changeovers to support a multiple preform design environment

Choice of different screw diameters to maximize production output flexibility

Reflex PET clamp to distribute the right amount of force and maximizing mold life

Rotating end of arm tool with up to three cooling positions to ensure preforms are ejected at ideal temperatures

Intuitive, easy-to-use controls that enable fast set-up, maximized uptime, optimal energy management and central control of auxiliaries

Adaptive system pressure automatically adjusts oil pressure to suit specific applications while conserving energy

Capability to run recycled PET pellets and varying quantity of flakes, supporting sustainability initiatives
Husky Injection Molding Systems Ltd .is a leading global supplier of injection molding equipment and services to the plastics industry. The company has more than 40 service and sales offices, supporting customers in over 100 countries. Husky's manufacturing facilities are located in Canada, the United States, Luxembourg, Austria, Switzerland, China, India and the Czech Republic.
Source: Husky