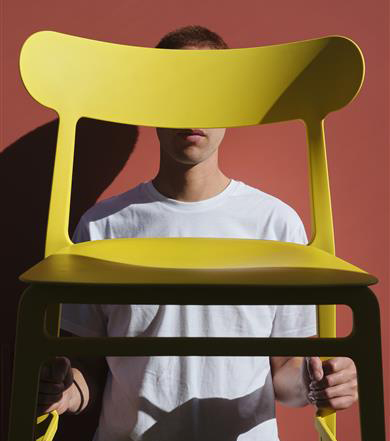 DSM Engineering Materials announced the launch of its first collaboration with New Zealand-based direct-to-consumer furniture brand noho: Lightly stackable chairs. The new plant- and recycled-based product is the first chair to be manufactured from DSM Engineering Materials' EcoPaXX biobased polyamide, which is derived from the castor bean plant. This renewable resource is highly CO2 absorbent while it is growing, giving EcoPaXX a lower carbon footprint compared to fossil-based alternatives.
April, 3, 2023 - In line with noho's strong environmental commitments, it collaborated with DSM Engineering Materials to create Lightly– its first product made from a biobased material – helping to accelerate the next phase of the brand's sustainability journey. The launch of Lightly marks the second entry in noho's portfolio of ergonomically designed and more sustainably produced chairs for work, home, and events. Lightly will be available to order in the USA and New Zealand from March 16.
The chair is created using both EcoPaXX (~71%) and recycled post-consumer waste materials (~28%). EcoPaXX is 70% biobased, with its renewable content derived from castor bean plants. EcoPaXX biobased polyamides have a wide range of uses across industries such as automotive, water management, consumer goods and electronics, and food packaging.
Combining comfort and convenience, Lightly is designed to be light and easily stackable for simplified storage, mobility and versatility: one chair weighs only 2.7kg (6 lbs.) and a stack of 10 chairs reaches just 106cm (3.5 feet) from the ground – allowing users to easily tidy them away when not in use. This compactness also reduces the greenhouse gas (GHG) emissions related to shipping the products, as more chairs can be loaded into a single container.
According to noho, Lightly offers users comfort thanks to its design. Nevertheless, its thin frame is manufactured using as little material as possible to reduce GHG emissions related to raw material sourcing. This means the material used must meet extremely demanding performance standards. DSM says its EcoPaXX provides a combination of strength, durability, low moisture uptake, and surface finish – resulting in a product that is as attractive and robust as it is sustainable.
Paul Wilkinson, Co-CEO at noho, commented: "We're excited to be bringing to market a product that offers users superior versatility and ergonomic design while reducing the carbon emissions caused by its manufacture. The opportunities that DSM Engineering Materials offers in the areas of recycled and plant-based materials fit well with noho's philosophy. Thanks to our collaboration, we are one step further on our mission to create furniture designed to fit the needs we see in people's homes in a way which is better for the environment ."
Martin Wolffs, Global Business Manager EcoPaXX at DSM Engineering Materials, commented: "It's a pleasure to help bring to life noho's future-focused vision of minimizing its environmental impact by considering the entire product life cycle, from manufacture to shipping – designing more sustainably wherever possible. Our biobased materials offer exceptional performance with a greatly reduced ecological impact – helping pave the way toward a circular economy for materials."
Source: DSM