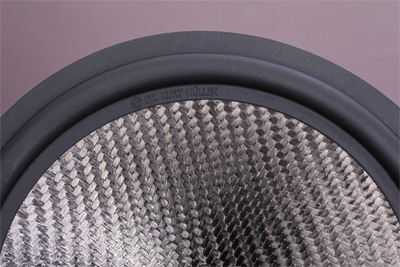 Ineos Styrolution's carbon composite with acoustic properties

StyLight thermoplastic composite chosen by Dr. Kurt Müller for latest generation of loudspeaker cone
November, 10, 2020 - Ineos Styrolution, a global leader in styrenics, announced today that its StyLight composite has been selected by Dr. Kurt Müller GmbH & Co. KG for the company's latest loudspeaker cone assembly.
Dr. Kurt Müller GmbH & Co. KG (DKM) is a leading international supplier for acoustic parts with over 70 years of experience. DKM's core business is the development, production and commercialisation of loudspeaker components. The company continuously searches for new materials to optimise the sound of loudspeakers. DKM selected Ineos Styrolution's composite StyLight as the material for new acoustic membranes for cones, domes and dust-caps in automotive as well as in high-end speakers.
Ineos Styrolution says that StyLight Aesthetic S C245 carbon sheet is based on a modified SAN matrix ensuring an aesthetic surface and extremely high mechanical performances. The composite is a material of choice for demanding automotive interior and exterior applications, the manufacturer claims. It also made inroads into other industries including electronics, sports/ leisure industry – and now for the first time into home entertainment.
Matthias Ringpfeil, Technical Director at Dr. Kurt Müller, comments: "When we explored the new StyLight material, it initially convinced with its look. However, when we analysed its acoustic properties, we were even more convinced that we had found the material of choice for our new 6" carbon cone assembly. This has been confirmed by our long term loud speaker customers and we received immediately the first commercial orders."
Andreas Kolf, Business Development Manager Composites at Ineos Styrolution, adds: "It is very rewarding to see that our innovative material is selected by an equally innovative company. The collaboration with Dr. Kurt Müller resulted in a promising new solution and even helped us to learn more about the potential of our StyLight material. We are looking forward to a long term cooperation with DKM to further develop StyLight for innovative high performance acoustic membranes."
Ineos Styrolution is a leading global styrenics supplier, with a focus on styrene monomer, polystyrene, ABS Standard and styrenic specialties. The company provides styrenic applications for many everyday products across a broad range of industries, including automotive, electronics, household, construction, healthcare, packaging and toys/sports/leisure. In 2019, sales were at 5 billion euros. Ineos Styrolution employs approximately 3,600 people and operates 20 production sites in ten countries.
Source: Ineos Styrolution