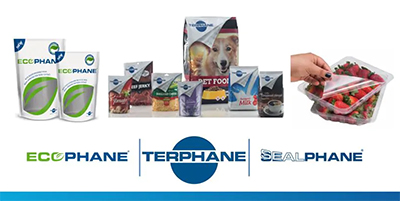 August, 30, 3021 – Terphane, a leader in PET film, will showcase its portfolio of specialty polyester films at the 2021 PACK EXPO, in Las Vegas, from September 27 to 29 (booth N-10002). Terphane says that its lines of specialty polyester films feature sealable, resealable, peelable, and high-barrier properties that increase a product's consumer appeal, safety, and shelf life in various flexible packaging applications. Additionally, the company will present its sustainable product portfolio: Ecophane.
At Pack Expo, Terphane will feature:
Sealphane, a heat sealable PET film, which addresses a growing customer demand for packaging that clearly indicates the tray or packaging wasn't compromised. According to Terphane, Sealphane delivers tamper-evident, multi-use lidding solutions with tray and lidding film package options. Sealphane is recyclable, peelable, solvent-free and features anti-fog, high clarity properties to improve product visibility, the manufacturer claims. Sealphane films are FDA approved for direct food contact by International Standards.
The Ecophane line, which aligns with the growing global market demand for sustainable packaging. It consists of two product families: rPET and bPET. The first is produced with a minimum of 35% post-consumer recycled food grade PET resin, and the latter is a biodegradable film manufactured through a technology that enables degradation in landfills, Terphane says. All Sealphane films and other options are available with post-consumer resins in Terphane's Ecophane film line.
The Sealphane Reseal solution, an innovative resealable film that meets the market needs for resealable, tamper evident, multi-use lidding solutions. According to Terphane, it eliminates the need to label, laser score, or buy any tooling to provide a die cut package. The manufacturer claims this technology saves time, money, and the risk of capital obsolescence if the tray, or container, changes in the future. Sealphane Reseal is transparent, with thermal stability and mechanical properties that seal to many different substrates and provides a strong barrier to gas, water vapor, and aromas keeping products safe from contamination, and stay fresher longer, Terphane says.
Matte-finished films, which are used to create packaging with a unique look and feel that helps products stand out in the retail environment. According to Terphane, its portfolio of matte-finished film delivers sustainability characteristics, while its anti-glare surface makes it easy to read all of the information required on packaging. In addition, a version of velvety touch film is available.
Since its founding 1976, Terphane has developed technologies and processes to produce specialty bioriented polyester films (BOPET). With experience and technical knowledge in film production, coating, and metallization, the company has vertical integration, from resin to specialty films. Terphane has facilities in Brazil and the US., and is a subsidiary of U.S.-based Tredegar Corporation.
Source : Terphane