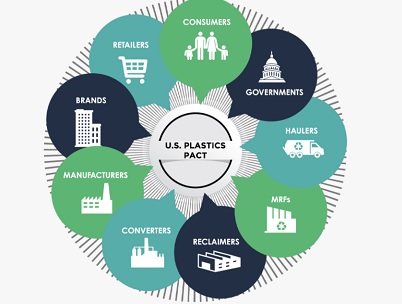 Global leader in styrenics adds its voice to the vision of achieving a sustainable future for plastics through innovative change and solutions.
Ineos Styrolution has joined the collaborative and ambitious U.S Plastics Pact, led by The Recycling Partnership and World Wildlife Fund in partnership with the Ellen MacArthur Foundation.
August 24, 2021 - Ineos Styrolution has joined the U.S. Plastics Pact in their support for collaborative, solution-driven initiatives intended to drive significant system change in the design, use, and reuse of plastics. The U.S. Plastic Pact unites cross-sector approaches, setting a national strategy, and creating scalable solutions to create a path forward toward a circular economy for plastics in the United States by 2025.
As part of the U.S. Plastics Pact, activators like Ineos Styrolution recognize that significant change is essential to implementing a circular economy for plastics. As such, the U.S. Plastics Pact is assembling more than 10 brands, retailers, NGOs, and government agencies across the plastics value chain to bring one voice to U.S. packaging. The members will employ coordinated initiatives and innovative solutions for rethinking products, packaging, and business models.
Ineos Styrolution has a vision for sustainability aimed at improving and increasing the recovery of post-consumer plastic waste and strengthening innovation for circularity. "We must be solution-focused. It is paramount that we see innovative advancements in sustainability and a circular economy of plastics brought into a global reality." says Ricardo Cuetos, Vice President, Ineos Styrolution America LLC, Standard Products.
"Together, through the U.S. Plastics Pact, we will ignite system change to accelerate progress toward a circular economy," says Emily Tipaldo, Executive Director of the U.S. Plastics Pact. "The U.S. Plastics Pact will mobilize system wide change through support for upstream innovation and a coordinated national strategy. This unified framework will enable members to fast-track progress toward our ambitious 2025 sustainability goals. Members' full participation will be vital to reaching our shared goals."
Ineos Styrolution is a global styrenics supplier, with a focus on styrene monomer, polystyrene, ABS Standard and styrenic specialties. The company provides styrenic applications for many everyday products across a broad range of industries, including automotive, electronics, household, construction, healthcare, packaging and toys/sports/leisure. In 2020, sales were at 4 billion euros. Ineos Styrolution employs approximately 3,600 people and operates 20 production sites in ten countries.
The New Plastics Economy and The Plastics Pact
Since 2016, the Ellen MacArthur Foundation's New Plastics Economy initiative has rallied businesses and governments behind a positive vision of a circular economy for plastic. Its 2016 and 2017 New Plastics Economy reports captured worldwide headlines, revealing the financial and environmental costs of waste plastic and pollution.
The Plastics Pact is a global network of initiatives that brings together all key stakeholders at the national or regional level behind a common vision with a concrete set of ambitious local targets. It builds a unique platform to exchange learnings and best practices across regions to accelerate the transition to a circular economy for plastic - a New Plastics Economy - in which it never becomes waste or pollution.
Source : Ineos