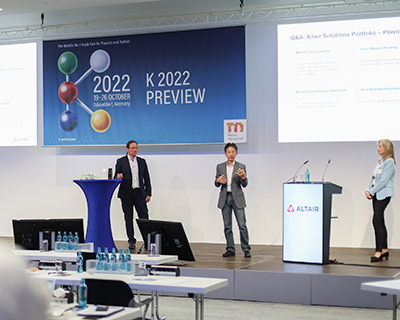 Simulation and AI-Driven Plastics Engineering Solutions for a Sustainable Plastics Value Chain
Altair (Nasdaq: ALTR), a global leader in computational science and artificial intelligence (AI), claims to enable a digitized description and evaluation of the product development process and material cycle. The company says its product portfolio offers solutions for holistic, sustainable product development, enabling the plastic industry to substitute materials, increase recycled material usage rate, and sssess and reduce carbon footprint.
Altair says it provides an offering for the digital transformation of the plastics engineering value chain, helping industry organizations to achieve their sustainability and climate protection goals. Altair's toolset includes:
Material Data Availability: Altair says it has a consistent and comprehensive material data and database infrastructure know-how for better decision-making
Virtual Material Modeling: Lets users handle complexities to represent true material nature
Design for Sustainability Processes: Workflows for lightweight design and material substitution that enable sustainable design
Manufacturing Process Simulation: (i.e., for injection molding) To optimize production steps and achieve desired product quality
Integrative Simulation: For accurate performance prediction
Digital Twin Software: To improve plant, machine, and product design
K 2022's themes reflect Altair's motivation to enable organizations in the plastics industry who need new solutions to meet circular economy and climate sustainability goals. Knowing that investing in digitization means investing for success, the plastic industry needs tools for the complete product development process and beyond. Sustainable product development is becoming indispensable, as is material reduction and material substitution. These forces bring more climate-friendly material alternatives to the forefront of the plastics value chain.
Altair will exhibit at K in October in Hall 8b Booth H28. The company will display case studies on Client Best Practice Articles such as:
Motan: Holistic carbon footprint Assessment & Reduction
X-Plast, Knorr-Bremse: Material Substitution
Sika: Reduce is Better than Recycle
Alpla: Circular Product Development
Source: Altair