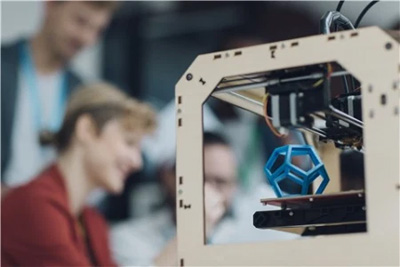 October, 31, 2020 - Polypropylene filaments, pellets and powder can be used in industrial and desktop printers to make processes more versatile and to make more resistant and stable pieces
Braskem launched this month a portfolio of products for additive manufacturing, also known as 3D printing, which is experiencing robust growth in Brasil. The market, with its decentralized production and customized solutions, also has helped to fight the novel coronavirus with the manufacture of face shields and components for mechanical respirators, for example.
According to Braskem, its solutions made from polypropylene (PP) have proved attractive and ideal for additive manufacturing, given the recyclability, impact strength and dimensional stability of the raw material, which features the capacity to make durable hinges and lower density than other types of plastics. PP for 3D printing can be found in the form of pellets and filaments, both of which are produced in Brazil, and powder, which is imported from the United States. The products also can be used in both industrial and desktop 3D printers.
Braskem's PP filaments, which are available in 1.75 mm and 2.85 mm diameters, were developed with the user in mind and deliver a better balance of mechanical properties, dimensional stability and printing performance, the manufacturer claims. Developed for the Selective Laser Sintering (SLS) process that uses a laser to sinterize polymer powder, polypropylene powder is the result of a partnership with Advanced Laser Materials (ALM), a subsidiary of EOS North America. The material is recognized for its mechanical performance, dimensional stability of printed parts and high reuse rates of the remaining printing powder at the end of each cycle. Meanwhile, PP pellets were developed in collaboration with Titan Robotics with a focus on ATLAS, an innovative platform for pellet extrusion on an industrial scale.
For Braskem's manager of Innovation & Technology for Additive Manufacturing, Fabio Lamon, the company's new portfolio makes 3D printing processes in Brazil even more sustainable. "Additive manufacturing is by nature a zero-waste process as it consists of the fabrication of a three-dimensional piece via the addition of layers of raw material based on a digital 3D file, which results in total design freedom and eliminates the losses and waste that are usual in various traditional production processes. Remember that the polypropylene developed for this application can be recycled just like the other thermoplastic resins produced by Braskem and used in other conversion processes, which emphasizes our commitment to sustainability and the circular economy," he said.
3D printing's relevance to Braskem as a producer of raw materials in terms of market growth is growing. The technology has a strong appeal due to its transformational innovation, since it corresponds to a fully decentralized production process that minimizes losses and material waste, while also having benefits from the logistical standpoint.
The company's initiatives in the field began in 2013 with the Printing the Future project, a partnership with Made In Space, a supplier to NASA, for the development of a 3D printer for operation in zero gravity. The equipment made and sent to the International Space Station in 2016 uses Braskem's bio-based I'm green polyethylene made from sugarcane. In 2019 the project was further supported by the development of a recycler that enabled the team of astronauts to transform plastic waste into raw materials for fabricating new items.
The products in the form of filaments and pellets for direct use with 3D printers can be acquired directly from Braskem, while powder products are marketed globally by Advanced Laser Materials (ALM). Braskem's PP filaments also are marketed by 2M3D, Braskem's official distributor of 3D printing filaments for South America.
"As the largest thermoplastic resin producer in the Americas, Braskem is always advancing and improving its portfolio to meet the needs of our clients. The launch of a 3D printing portfolio is another step in our evolution. We are excited about the performance of our polypropylene compared with the other materials available in the market, and believe that its availability in pellet, filament and powder products help further increase the enormous potential we see in the global 3D printing market," said Jason Vagnozzi, Braskem's commercial director of Additive Manufacturing.
3D printing in the fight against the novel coronavirus
In July 2020, Braskem donated 120 coils of plastic filament for the production of face shields and components of artificial respirators, used in fighting the covid-19 pandemic. The company also made available its team of additive manufacturing experts to support the work of 12 3D printing research centers in the states of Bahia, Rio de Janeiro, Rio Grande do Sul and São Paulo.
The PP filament made by Braskem for use in 3D printers was converted into bands for approximately 5,000 face shields, which were distributed to healthcare professionals working in public hospitals near the research centers.
Source: Braskem