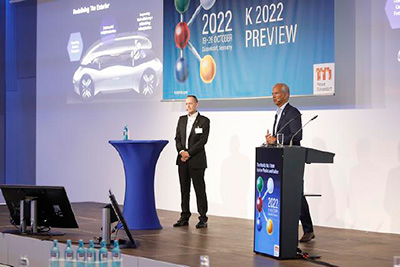 Strategic partnership with U.S.-based Genomatica for bio-HMD
March, 16, 2022 - Asahi Kasei has formed a strategic partnership with Genomatica, Inc., regarding hexamethylenediamine (HMD) based on biomass-derived raw material (bio-HMD).
Asahi Kasei currently uses fossil fuel–derived HMD as an intermediate to manufacture Leona polyamide 66 (also called nylon 66) (1*,2*), an engineering plastic featuring outstanding heat resistance and rigidity. Polyamide 66 is used for plastic parts in automotive and electronics applications, as well as yarn for airbag fabric. Demand for polyamide 66 is expected to increase worldwide.
As the world moves toward carbon neutrality, attention is increasingly focused on solutions for reducing greenhouse gas emissions from chemical products derived from fossil fuels. The strategic alliance with Genomatica provides Asahi Kasei with preferential rights to access the early volume of bio-HMD to evaluate the possibility as a feedstock of polyamide 66, enabling Asahi Kasei to accelerate trials of polyamide 66 made using biomass-derived intermediate. Genomatica has an established track record of commercializing manufacturing technology for various chemical products using biotechnology. By using this bio-HMD with its own polyamide 66 polymerization technology, Asahi Kasei aims to support its goal to be first-to-market with more sustainable polyamide 66 made using biomass-derived intermediate for the automotive and electronics application of plastics components and industrial fiber.
HMD is a key component of nylon 6,6 (also known as polyamide 6,6) and multiple other types of nylon, with a global market of 2 million tons per year. Conventional HMD is made starting from fossil fuels, such as crude oil or natural gas. Renewably-sourced HMD made with Genomatica's technology is derived from renewable feedstocks, such as plant-based sugars, and can improve the sustainability of the many materials made from it.
Building upon Genomatica's recently-announced breakthrough to successfully produce significant volumes of plant-based HMD, Asahi Kasei intends to apply the GENO™ HMD process technology to make more sustainable Polyamide 66. Asahi Kasei will have preferential access to early volumes of renewably-sourced HMD and perform nylon application testing, leveraging Asahi Kasei's deep experience developing successful nylon applications. Asahi Kasei anticipates licensing Genomatica's GENO™ HMD process technology to commercialize bio-based nylon 6,6.
"Just as the sustainable energy transition is reinventing how we power our lives, we are at the start of a sustainable materials transition that will reinvent the products we use every day and where they come from," said Christophe Schilling, Genomatica CEO. "Genomatica's partnership with Asahi Kasei utilizing the GENO™ HMD process for nylon 6,6 and other specialty nylons marks another important step forward in this transition and leads the way toward more renewably-sourced, bio-based manufacturing plants replacing those utilizing fossil fuels."
Genomatica develops complete, integrated process and manufacturing plant designs that use biotechnology, fermentation and renewable feedstocks to make widely-used ingredients and materials with lower carbon footprints. Asahi Kasei expects Genomatica's innovation to help the company reach its goal of becoming carbon neutral by 2050, while also alleviating the environmental burden throughout the life cycle of customers' products.
"Asahi Kasei is proud to be a leader in our industrial technology, incorporating bio-based materials into our products in our drive to become carbon neutral in the coming years," said Dr. Shigeki Takayama, Chief Technology Officer and Representative Director on the Board of Directors of Asahi Kasei. "Sustainability is a core piece of Asahi Kasei's strategy and Genomatica's strong history of commercial success has made them an essential partner in this mission. We anticipate a strong start and look forward to moving to commercial scale together."
Asahi Kasei will continue to strive for adoption of biomass-derived intermediates for its engineering plastics in addition to polyamide 66, while proactively utilizing recycled material, aiming to be a global sustainable partner for its customers.
Genomatica is harnessing biology to remake widely used products and materials built by and for the planet. The company is developing and scaling sustainable materials used across key industries that are derived from plant- or waste-based feedstocks instead of fossil fuels, helping brands and their supply chains deliver on their climate goals and transparency objectives. Genomatica has already commercialized sustainable materials used in plastics and cosmetics, and is working on plant-based nylon, household cleaners and more.
The Asahi Kasei Group has consistently grown through the transformation of its business portfolio since its foundation in 1922 with ammonia and cellulose fiber businesses, Asahi Kasei With more than 40,000 employees around the world, the company has three business sectors regarding Material, Homes, and Health Care. Its Materials sector, comprised of Basic Materials, Performance Products, Specialty Solutions, and Electronics, includes a wide array of products from battery separators and biodegradable textiles to engineering plastics and sound solutions.
Notes:
(1) Regarding the use of terms such as "renewably-sourced (nylon 6,6 or HMD)", and "more sustainable (nylon 6,6 or materials)": Nylon 6,6 is made by using approximately 50% HMD along with approximately 50% adipic acid, which today is made from fossil-derived feedstocks. Renewably-sourced HMD is derived from the sugars in plants which are annually harvestable. Renewably-sourced and sustainable nylon 6,6 is made by using such bio-based HMD instead of conventional HMD from fossil fuels, along with adipic acid. "More sustainable" ingredients or materials describes Asahi Kasei´s estimates that ingredients or materials made using renewable feedstocks and Genomatica production technology can reduce greenhouse gas emissions associated with their production, as compared to similar ingredients or materials made using fossil-derived feedstocks and conventional petrochemical production methods.
(2) The main types of polyamide are polyamide 66 and polyamide 6, which have different chemical structures. With superior heat resistance and strength, polyamide 66 is widely used in industrial applications such as automotive and electronics. Polyamide 6 is widely used as apparel fiber.
(3) Various types of Leona™ polyamide: In addition to polyamide 66, polyamide 6I, and polyamide 612 made using HMD, Asahi Kasei manufactures polyamide 610 using intermediate derived from castor oil. Asahi Kasei is the only polyamide 66 manufacturer in Asia with fully integrated production from raw materials to resin compounds, supplying material suited to various needs ranging from plastic moldings for automotive and electronics applications to airbag yarn and fabric, and tire cord.
Source: Asahi Kasei