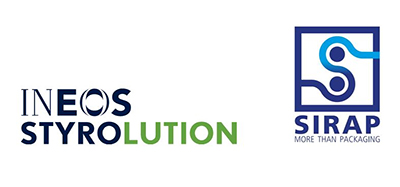 Saving valuable post-consumer waste from landfill or incineration
Introduction of a functional barrier to comply with food contact regulations
July, 27, 2021 - Ineos Styrolution, a global provider of styrenics, and Sirap Group, a provider of sustainable food packaging solutions, announced today to incorporate the new mechanically recycled Styrolution PS ECO, a 100% recycled polystyrene, for new food packaging solutions.
Sirap Group is a company with a track record for providing sustainable packaging solutions. Sirap will benefit from the property profile of the mechanically recycled PS ECO grade. Ineos Styrolution says easy foaming properties allow the production of XPS foam packaging trays.
Franck Dumasdelage, General Manager France at Sirap Group, comments: "Sirap has been investing into R&D for innovative and sustainable materials for more than 60 years. We had been working with Ineos Styrolution's virgin material before. Naturally, we were excited to learn that the material is available now also as mechanically recycled Styrolution PS ECO. It looks like the perfect material for our purpose."
Louie Mackee, Standard Business Project Specialist at Ineos Styrolution, adds: "At Ineos Styrolution, we are excited to work with a fast mover like Sirap Group who shares our passion for sustainability."
Ineos Styrolution has recently launched several mechanically recycled polystyrene products. The company follows the concept of using Styrolution PS ECO material behind a functional barrier making the material suitable for food contact applications such as XPS foam food packaging trays. The concept, which conforms with requirements under FC Regulation (EU) No 10/2011, is based on a layer of virgin polystyrene enclosing the recycled polystyrene.
The new polystyrene solution is suitable across a wide range of applications including food contact. It will enable customers to address their respective sustainability goals and contribute to the development of a circular economy.
Ineos Styrolution is a leading global styrenics supplier, with a focus on styrene monomer, polystyrene, ABS Standard and styrenic specialties. With world-class production facilities, its innovative and sustainable solutions help make the circular economy for styrenics a reality. The company provides styrenic applications for many everyday products across a broad range of industries, including automotive, electronics, household, construction, healthcare, packaging and toys/sports/leisure. In 2020, sales were at 4 billion euros. Ineos Styrolution employs approximately 3,600 people and operates 20 production sites in ten countries.
Sirap Group is a manufacturer of fresh food containers in Europe. The company was founded in Verolanuova (BS) in 1960 and is wholly owned by Italmobiliare, an Italian holding listed on the Milan stock exchange.
Source : Ineos Styrolution