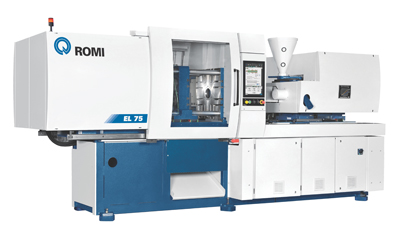 Focused on providing high technology to the market, the company will be present at the exhibition for the plastics segment
October, 01, 2019 - Romi, Brazilian leader in the industrial equipment market, will participate in the 2019 edition of the K show, the most important meeting point for those involved in production for the plastics industry. The event is being held at the Messe Dusseldorf fair grounds between October 16th and 23th. Romi will present the latest technological developments in its portfolio of products and services.
With 300m², Romi's stand (Hall 15 D40), will exhibit innovations from its line of machines for plastics and will also host the launch of the new Romi ES Series high speed injection moulding machine.
Among the highlights at the fair is the Romi EN 220 injection moulding machine. According to the manufacturer, it features the modern "Stop and Go" system, providing greater speed, high precision and low energy consumption. It is suitable for diverse market sectors and available on integrated solutions for PVC production, PET pre-molds and multi-material and multi-colour injection.
Also on display will be the new Romi ES 300. According to Romi, it is ahybrid injection moulding machine, developed for the production of parts that demand high injection rates for long flow path/ thin walled products, maximum precision and ultra-fast cycles with very low energy consumption. The company says the machine uses servo-motor drive for all clamp unit movements combined with accumulator-assisted hydraulic injection and fast response servo-valve movements, to achieve high speed and precision while minimizing energy consumption. The machine features meet the needs for the packaging and medical device markets, the manufacture explains.
For the director of the Plastic Machinery Division, William dos Reis, the event is an excellent opportunity for new businesses. "When we participated in such events in the past, we got the opportunity to present quality technology and productivity solutions which helped to further consolidate Romi as the benchmark in the plastic industry" says the executive.
Industrias Romi S.A, founded in 1930, are the market leader in Brazilian machinery market and industrial equipment and important manufacturer of cast iron and machined parts. Romi manufacture machine tools (Mechanical Lathes, CNC Lathes, Turning Centres, Vertical Milling Machines, Vertical Lathes, Heavy Duty and Extra Heavy Duty Lathes and Horizontal Milling Machines), plastic injection moulding and plastic blow moulding machines and grey iron cast, nodular or vermicular, supplied rough or machined. The company's products and services are commercialized globally and used in diversified industrial segments, such as the automotive (light and heavy), agricultural machinery, capital goods, consumer goods, tooling, hydraulic, wind power, and others.
Source: Romi