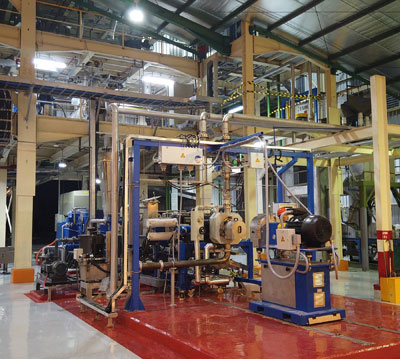 Useon Cites the New Production Line as a Milestone for 'Made-in-China' Twin-Screw Technology
January 13, 2020 - Extruder manufacturer Useon (Nanjing) Extrusion Machinery Co., Ltd. has installed a 70,000 ton per year polypropylene pelletizing line that incorporates a BKG underwater pelletizer from Nordson Corporation.
The new line, which is up and running at the facility of an Indonesian customer, is powered by Useon's SAT-X 175 co-rotating twin screw extruder. The unit has a 2,000 kW motor and Useon's patented high-torque gearbox. The throughput of the line is 8 to 10 tons/hour.
"The start-up is the culmination of a mega-integrated polyolefin pelletizing project in which Useon was responsible for design, manufacturing, installation, and commissioning," said Allen Zhang, sales manager for Useon. "The size of the project and our comprehensive role in it marks a milestone for made-in-China twin-screw technology in a market until now dominated by Western suppliers."
The pelletizing component from Nordson includes the BKG AH D 300 underwater pelletizer, with throughput capability up to 35 tons per hour, and the Optigon 5 automatically self-cleaning water and dryer system, with throughput up to 15 tons per hour.
BKG pelletizers are widely used in China and elsewhere, noted Aaron Kong, Nordson sales director for China. "To support this market, last year we started up a new pelletizing laboratory line at our facility in Shanghai, including a 300 kg per hour twin-screw extruder. It is used by our direct customers as well as OEM companies like Useon, whose customers can run trials in our lab to demonstrate our BKG equipment."
Since established in 2006 in Nanjing, China, Useon Extrusion has successfully delivered more than 2,600 twin- and single-screw extrusion lines worldwide for polymer processing applications including compounding, direct extrusion, foam extrusion, and recycling. They are headquartered in Nanjing, Jiangsu, China.
Founded in 1954 and headquartered in Westlake, Ohio, Nordson Corporation has operations and support offices in more than 30 countries. Nordson Polymer Processing Systems provides customers with engineered components to melt, homogenize, filter, meter, and give shape to plastic and fluid coating materials. Nordson delivers a range of precision melt stream products — from screws and barrels for extrusion and injection molding — to filtration systems, pumps, and valves — to the extrusion dies and pelletizing systems to meet the constantly evolving needs of the polymer industry.
Source: Nordson