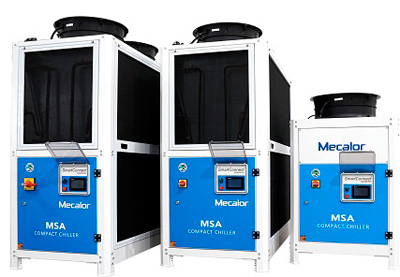 October, 01, 2019 - Continuing its internationalization process, Mecalor will be the only Brazilian company in the refrigeration segment to participate in the K Trade Fair at Düsseldorf - for the third time in a row. Mecalor products have received a warm acceptance in demanding markets such as in Europe and North America, which has increasingly motivated the expansion of the company's operations throughout the world. "This year the trade fair will have a special flavor, since Mecalor inaugurated in May the Mecalor's Mexico plant, in Querétaro, and began to serve customers in Latin America in a special way", explains Marcelo Zimmaro, commercial director of Mecalor.
Mecalor will bring a compact, high-efficiency chiller (cold water unit) with state-of-the-art features to its E15 stand in hall 10. The chiller was chosen for demonstration at the fair because, in addition to being the company's flagship product, it is also its most popular product, applied in cooling with cold water in various plastics conversion industries such as injection molding, blow molding, extrusion, thermoforming, and others.
This equipment is from the Compact Chiller MAS line and is produced with a structure of stainless steel AISI 304, aluminum microchannel condensers with anticorrosion protection e-coating, Grundfos stainless steel water pump, frequency inverter capacity control for energy saving and ecological fluid R-410A that does not harm the ozone layer.
Furthermore, in line with trends of the industry 4.0, the Smart Connect control system will be presented, as it provides a series of information from the sensors distributed in the equipment. The information available in SmartConnect can be used for communication with injection molding machines, blow molding machines, extruders and can be used for website monitoring and remote technical assistance.
Source: Mecalor