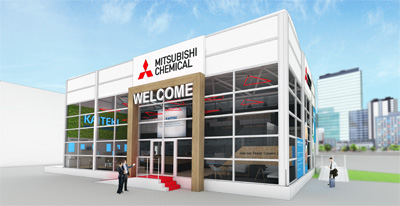 September, 4, 2019 - At K 2019 in Dusseldorf, Mitsubishi Chemical will bring its motto "Kaiteki Value for Tomorrow" to life for customers and guests. Kaiteki is an original concept of the Mitsubishi Chemical Holdings Corporation Group which involves us working towards "the sustainable well-being of people, society and our planet Earth."
For the first time, K 2019 sees Mitsubishi Chemical and its group companies present all its solutions in one place. The innovative industrial materials and performance products on display target five focus sectors:
Mobility solutions for automobiles and aircraft
IT, electronics and display
Medical, food and bio-products
Environment, energy, building and construction
Packaging, labels and films
Ansgar Pohl, President and CEO of EMEA Regional Headquarters and Executive Officer of MCC, underlines: "This is the first time for our company that such a variety of solutions and materials from all of our group companies can be found in one place. This is an excellent opportunity for every customer to inform themselves and discover new ideas around materials and solutions, especially regarding the growing demand for circular solutions."
Furthermore, a dedicated area of the stand highlights solutions that can contribute to a sustainable future. Mitsubishi Chemical will present light-weight solutions, recyclable materials as well as materials from renewable sources and applications for 3D printing.
Professionals and graduates can also come along to the careers corner and discover opportunities in the company..
Mitsubishi Chemical will be at Stand FG 04.1 – a standalone building near Hall 4.
Mitsubishi Chemical Corporation is headquartered in Tokyo, Japan. With over 40,000 employees at 351 affiliates in more than 30 different countries, Mitsubishi Chemical provides a range of solutions based on chemistry. The company says its vision is to realize the sustainable well-being of people, society and our planet Earth – and call it Kaiteki.
Mitsubishi Chemical in Europe is part of Mitsubishi Chemical Corporation. With 13 affiliated companies and 3,600 employees, it develops, promote and market materials adapted to customer requirements.
The following group companies are part of Mitsubishi group: Cleanpart Group, Lucite International, MC Ionic Solutions, Mitsubishi Chemical Carbon Fiber and Composites, Mitsubishi Chemical Europe, Mitsubishi Chemical Performance Polymers (MCPP), Mitsubishi Polyester Film, Mitsubishi Engineering Plastics (JV), Nippon Gohsei, Mitsubishi Chemical Advanced Materials (MCAM), Resindion, Wethje, Yupo (JV).
Source: Mitsubishi