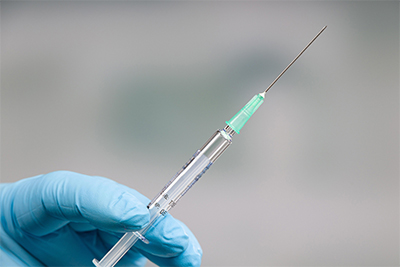 Additive improves high clarity of medical polypropylene (PP)
The needs for medical PP have grown due to the global rollout of COVID-19 vaccinations
August 2, 2021 – Lotte Chemical, a major Korean chemical company, has produced the polypropylene (PP) required for medical applications using BASF's Irgastab, a non-discoloring processing stabilizer. With the rollout of COVID-19 vaccinations worldwide, the need for syringes made from PP has increased exponentially.
Lotte Chemical's medical PP has been applied to the LDS (low dead space) syringes developed by a medical syringe manufacturer in South Korea. These specialized products are designed to minimize the amount of a drug left in the device after injection which leads to reduced vaccine wastage. As a result, LDS syringes are in huge demand globally as it is estimated to enable 20% more people to get the dose with the same amount of vaccine.
Plastics used for medical applications require sterilization. This causes degradation and discoloration of the polymer. "Irgastab serves to ensure that medical PP remains safe and suitable for use," said Hermann Althoff, Senior Vice President, Performance Chemicals Asia Pacific, BASF. "It provides processing stability without discoloration to polypropylene during compounding and injection molding, which is vital for LDS syringes as the materials need to be certified for high-clarity."
As the need for syringes is expected to explode for the vaccination against COVID-19, Lotte Chemical is expanding the development of special polypropylene materials to ensure strict production quality control of medical materials, including high-clarity PP, and to accommodate the growing needs related to healthcare and safety.
"Lotte Chemical has a strong position in the medical PP market and we would like to lead and develop this market together with BASF," said Dr. Kang Kyung-Bo, head of Lotte Chemical R&D center. "Due to its good performance in terms of color retention and transparency, we are assessing the possibility of expanding the use of Irgastab to fibers and sheets."
Source & Photo: BASF