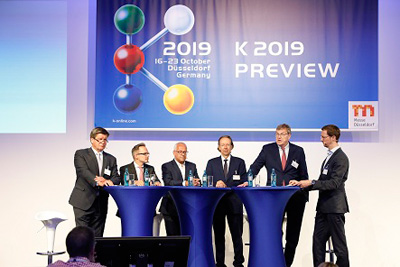 July 3, 2019 – Innovations in the areas of raw materials, machinery, processes, additives and applications, as well as new developments related to the Circular Economy, chemical recycling, digitalization, 3D printing and process control were exhibited at the avant-première of K 2019, organized by Messe Düsseldorf from June, 30 to July, 3 at the Messe Düsseldorf Convention Center, in Germany. Approximately 80 journalists from 32 countries attended the event, where 12 exhibitors presented some of the innovations they will display during K 2019, from October, 16 to 23, in Düsseldorf.
A panel (photo) with representatives of K 2019 supporting organizations and Messe Düsseldorf opened the event with the participation of Mr. Erhard Wienkamp (Executive Director of the Messe Düsseldorf Foreign Trade Fairs Division), Dr. Rüdiger Baunemann (General Manager of the Association and Regional Director Central Europe at Plastics Europe), Mr Ulrich Reifenhäuser (Chairman VDMA Plastics and Rubber Machinery Association), Mr Boris Engelhardt (Secretary General wdk - Association of the German Rubber Industry) and Dr. Oliver Möllenstädt (Executive Director of the German Association of Plastic Converters - GKV).
During the panel, the major focus of discussions was on sustainability and the circular economy of plastics, developments in chemical recycling and the initiatives of the Plastics Industry to eliminate plastic waste in the environment, such as the Alliance to End Plastics Waste (AEPW). In addition, the issue of the ongoing economic downturn in the plastics industry in Europe was also addressed, and was connected to problems with the automotive sector and the impact of plastics packaging image across society. The topics of digitalization and Industry 4.0 were also focused.
In later sessions, BASF, Covestro, Battenfeld-Cincinnati, Sikora, Reifenhäuser, Huntsmann, Lanxess, Sumitomo Demag, Wacker, Asahi Kasei, Krauss Maffei and Chen Hsong presented their new products and technologies for the international media, followed by questions raised by journalists.
At K 2019, over 3,000 exhibitors from all continents will be presenting their latest developments in the fields of machinery and equipment for the plastics and rubber industry, raw materials and auxiliary, semi-finished products, technical parts and reinforced plastic products. The fair, which will be open from 10 am to 6 pm on Wednesday, October 16 until Wednesday, October 23, is expected to attract around 200,000 professional visitors from all around the world.