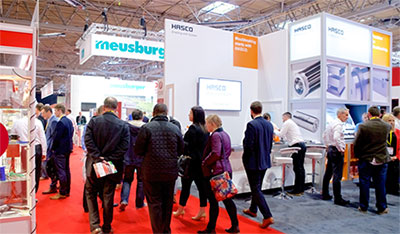 August, 6, 2021 - Interplas, the UK's leading plastics industry event that showcases manufacturing processes, technologies and services essential to the plastics sector returns to the NEC, Birmingham 28-30 September 2021 after a COVID-19 postponement for 2020.
Celebrating its 70th year, Interplas 2021 will see more than 350 exhibitors present solutions, products, machines and ideas from across the entire spectrum of moulding and forming machines, as well as materials, extrusion, automation, contract manufacturing and supporting technologies including software, testing, inspection and surface treatments.
"We're expecting over 12,000 attendees from the UK manufacturing community," said Duncan Wood, Chief Executive of organisers Rapid News. "Judging by our pre-registration progress there is a huge pent-up demand to see new machinery and materials, as well as to discuss the current issues facing in the sector – recycling, sustainability and post-Brexit regulation among just a few of the topics. Interplas has always been the meeting place of the industry and after 18 months of COVID considerations, many of our visitors will be glad to be contemplating new challenges."
Exhibitors cover the full spectrum of plastics manufacturing and include: Arburg, Billion, Bole Machinery, BMB Engel UK Ltd, Erema, Haitian, Negri Bossi UK, Piovan, ROMI Ltd, Sepro Robotique, Sodick, Jenco, STV Machinery Ltd and Summit Systems.
The show floor also features four specialist pavilions focusing on medical plastics; UK suppliers; tools and tool making; and knowledge transfer. The Mediplas Pavilion showcases all areas of the medical plastics supply chain – including design and prototyping, materials, clean room machinery and equipment, process control, contract manufacturing, assembly, testing and regulations, and will highlight the developments in this fast-moving sector.
The PlastikCity Pavilion will offer visitors the opportunity to source new products and services from UK companies whilst the GTMA Pavilion brings together GTMA member companies expert in tools and toolmaking. The Knowledge Pavilion has been extended for 2021 and brings together a bank of highly experienced industry personnel from a cross-section of major institutions, consultancy bodies, trade associations, funding providers and livery companies. These experts will be on hand to answer questions and queries including information on how to accelerate your ideas, and how to find out about available funding. This area also offers a space for networking & collaboration.
Alongside the exhibition are two purpose build theatres hosting the free-to-attend conference programme with key themes of Advancing UK Plastics, Sustainability and Extrusion. Visitors can choose from 40 specialist sessions Speaker companies include Coca-Cola, JaguarLandRover, Microban, Queens University Belfast, British Plastics Federation and Vanden Recycling. These learning opportunities alongside a matchmaking programme and networking opportunities will ensure a visit to Interplas offers tangible value to an attendee immediately with intelligence and contacts that will continue to pay dividends long after the show closes .
"This year also sees a new event platform for registered visitors that allows them to build their own personalised agendas, schedule exhibitor meetings, bookmark conference sessions and also network with speakers and other visitors. This platform will also be complemented by a mobile app coming in by early August" commented Duncan Wood.
The event is co-located with TCT 3Sixty (3D printing and additive manufacturing intelligence); Med-Tech Innovation Expo (medical device design and manufacturing technology) and the PPMA Show (Processing and Packaging Machinery) and is supported by key industry associations.
"Over the last 18 months we have been in constant dialogue with our venue, co-located exhibitions, local authorities, Public Health England and the Department for Digital, Culture, Media & Sport (DCMS) to evaluate what measures will be required when we open Interplas. We are continuing to talk to these organisations and will adapt our thinking to align with the latest guidance. Attendee health and safety is always and will remain our main priority," concluded Duncan Wood.
Interplas 2021 will take place at the National Exhibition Centre (NEC), Birmingham, UK from 28-30 September 2021.
Interplas was founded in 1951 and takes place every 3 years. It is organised by Interplas Events Ltd, a member of the AEO (Association of Event Organisers) and BPA Worldwide. Interplas is the UK's leading plastics industry event and a showcase for the manufacturing processes, technologies and services essential to the plastics sector. Visit www.interplasuk.com for more information
Source & Photo: Interplas