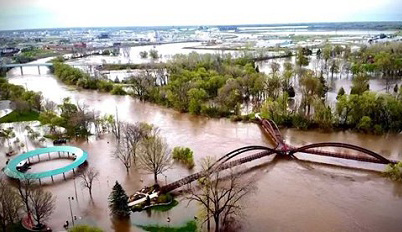 May, 20, 2020 - May, 20, 2020 - Dow Inc. activated its emergency operations center at its Midland facilities Wednesday after flood waters reached historic levels and mixed with chemical plant containment ponds, raising fears of an environmental disaster. Another fear: That the deluge will stir up cancer-causing dioxins in the river downstream of the federal Superfund site.
The multinational chemicals giant headquartered in Midland temporarily shut down its operations in the Michigan Operations industrial park as the failure of two dams on the Tittabawassee River forced thousands of residents to evacuate. The company's operating units were shut down except for facilities needed for safely managing chemical containment, company spokesman Kyle Bandlow said in a statement.
The potential release of any chemicals in the containment ponds is just one concern that could necessitate environmental remediation once the water recedes. The historic flood also has stirred up the contaminated sediment laying at the bottom of the Tittabawassee River put there by the Dow plant that helped build the city around it. The 1,900-acre facility abuts the river, and for years dangerous dioxins contaminated it, pushing the federal government to create a Superfund site there.
"The chemicals that are there as part of the Superfund site in the river are in the sediments and they do not break down. All this flood is doing is moving those around and possibly moving those around into the flood plain," said Allen Burton, a professor of environment and sustainability and of earth and environmental sciences at the University of Michigan. "I'm assuming Dow or the state will have to go in after and do a lot of sampling in the river and the flood plain to see if there are any pockets of contamination."
The containment pond mingling with flood waters may be less of a concern. Dow said late Wednesday that the pond is used for storm water and brine system/groundwater remediation and the material "does not create any threat to residents or environmental damage."
"The reality is there's a massive amount of water which means a massive amount of dilution, so in all likelihood any chemicals that escape are going to be diluted below levels of concern," UM's Burton said.
Additionally, Dow said there has been no reported release of chemicals from its manufacturing facilities.
Dow's Michigan Operations now encompass a 1,900-acre manufacturing site in the city where some 3,000 people work to support 10 Dow businesses that operate 26 manufacturing plants, according to the company. The site also is home to a research and development campus.
Midland is a city of 42,000 in central Michigan. Dow, one of the world's largest plastics and chemicals makers, has operated in Michigan since 1897.
Dow's Michigan Operations include production of plastics and specialty chemicals, as well as major R&D assets. Several other firms have operations at the Dow complex, including DuPont, Corteva Agriscience, Trinseo and SK Saran.
More information on The Detroit News