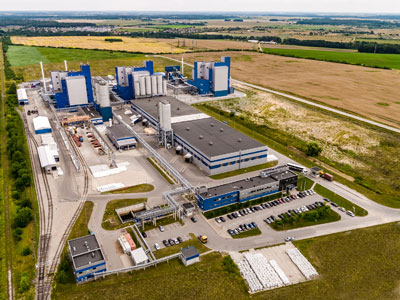 Europe's 2nd-Largest PET Supplier, NEO Group Installed 4 BKG Pelletizers, Gear Pumps, and Other Components Directly from Their Original Shipping Boxes
July 16, 2019 - Twelve years ago, NEO Group purchased BKG underwater pelletizers and related components for three PET polymerization lines but installed only two, storing the unused BKG equipment in their original shipping boxes. Today the company has a new, third PET line, making it the second-largest PET producer in Europe, and those 12-year-old BKG pelletizers are hard at work as if they were delivered yesterday.
NEO Group had purchased the PET production lines from Zimmer AG, including twelve BKG underwater pelletizers—four for each polymerization line—plus polymer diverter valves, gear pumps, water systems, pellet dryers, and controls.
"We simply opened the shipping boxes, assembled the BKG components, and plugged them in," said Ruslanas Radajevas, general manager. "After twelve years in storage, everything ran extremely smoothly—no problems, no troubles."
The smooth startup of the pelletizing systems reflects the quality inherent in BKG products, noted Godfrey Sandham, vice president, Nordson Polymer Processing Systems, Europe. "It was the excellent reputation of BKG pelletizers and melt delivery components that drove Nordson to acquire these businesses," said Mr. Sandham. "Since then we have invested heavily in processes for continuous improvement of our products and have just completed construction of a global hub for the BKG brand in Münster, Germany."
NEO Group's third PET line adds 160,000 tons of annual capacity, bringing the company's total to 480,000 tons. The NEO Group PET resin and polyol manufacturing complex is located in Lithuania's Klaipeda Free Economic Zone.
Founded in 1954 and headquartered in Westlake, Ohio, Nordson Corporation has operations and support offices in more than 30 countries.
Nordson Polymer Processing Systems provides customers with engineered components to melt, homogenize, filter, meter, and give shape to plastic and fluid coating materials. Nordson Corporation leverages the collective plastics industry experience from a series of strategic acquisitions to offer a uniquely broad portfolio of industry-leading technologies. Nordson delivers a full range of precision melt stream products — from screws and barrels for extrusion and injection molding — to filtration systems, pumps, and valves — to the extrusion dies and pelletizing systems to meet the constantly evolving needs of the polymer industry.
Nordson Corporation provides customers with local technical sales, service and remanufacturing capabilities through sales organizations and regional manufacturing facilities in over 30 countries. To learn more visit http://www.nordsonpolymerprocessing.com
Source: Nordson
.